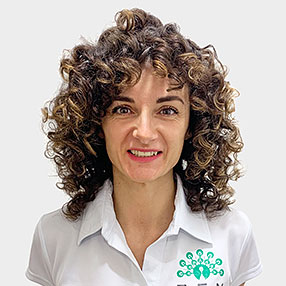 Qualifications:
Holistic Massage Diploma L4
Holistic/Swedish massage
Deep Tissue
Relaxation massage
Favourite things to treat:
Neck, back and upper and lower limbs.
Bio:
Justyna's passion for massage therapy, body movement and body awareness started in her teenage years when she trained in Kyokushin Karate for 7 years. Relocating to London, Justyna started to work in the fitness industry discovering a passion for weightlifting training, combined with body weight movements and advanced stretches.
Through this combination of exercise practices, she quickly began to understand understood that tense muscles are not only a result of physical stress, but also of a client's emotional and spiritual wellbeing – an insight that informs her approach to her massage sessions on a daily basis.
Justyna's style combines clinically based deep tissue massage along with techniques to calm, reset and relax the body. Flowing movement is also incorporated to aid the body`s natural healing process and reconnect the client's mind and body as a whole.
She understands that every person has unique challenges and preferences, and prides herself in being able to hone into needs of each individual.
Justyna spends her free time expanding her cooking and weightlifting skills and looking for new destinations to travel to.