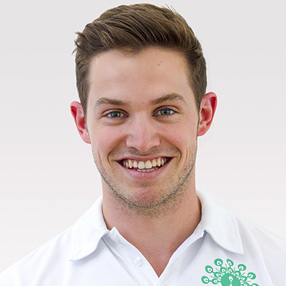 Qualifications:
Bachelor of Physiotherapy (University of Queensland)
Dry needling
APPI pilates matwork
Member or CSP, APA, HCPC
Favourite things to treat:
Sporting injuries, pre and post-operative rehabilitation, cervicogenic headache, biomechanical analysis and movement/gym technique correction.
Bio:
Sport has played a key role in Australian-born Liam's life having competed at state level for swimming, waterpolo and athletics, whilst also having trained in dance.
After graduating from the University of Queensland in 2012 Liam began his professional career working in a private clinic in Brisbane. During his time there, he worked with both hospital inpatients and musculoskeletal outpatients.
His inpatient training has given him in-depth knowledge of surgical procedures, having spent many hours observing in theatre with some of Australia's top surgeons.
During his outpatient experience, Liam was lucky to have worked under and been trained by two of Australia's leading Sports Physiotherapists. His clients included professional sportspeople from the NRL, AFL and Australian Wallabies.
Liam has also undertaken post graduate training in both Pilates and dry needling to broaden the treatment options and optimise outcomes for his patients.
Since relocating to London in early 2015 Liam has worked in the NHS, treating NHS outpatients and inpatient orthopaedics, before joining the Ten team.
Liam's special areas of interest are pre and post-operative rehabilitation, sporting injuries, knee and shoulder injuries, cervicogenic headache and neck pain.
He uses a wide variety of techniques, combining hands-on and exercise based rehabilitation in order to achieve patient goals. His treatment focuses on addressing the main cause, rather than just management of the symptoms. This is done by analysing whole-body movements and ensuring good exercise technique.
Liam is determined to ensure that all his patients have as positive an experience and as successful an outcome as possible – something he achieves through the combination of his impressive clinical expertise and his friendly, personal and approachable approach.