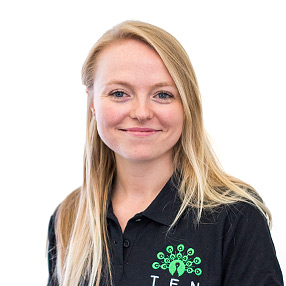 "Work out because you love your body, not because you hate it."
Qualifications:
BSc Psychology
MSc Human Nutrition
Dip. Psychology of Eating
REPs Level 3 Personal Trainer
REPs Level 3 Mat Pilates Instructor
Ten Academy
Classes:
Favourite Exercise:
Planks and pikes.
Bio:
Olivia's passion for health and fitness started in her teens. Over time, her lifelong passion for exercise expanded to incorporate her growing interest in the mental as well as physical motivations that drive people towards – or – rom a healthier lifestyle.
Keen to understand more about the psychology of health behaviours, Olivia studied for a BSc in Psychology followed by an MSc in Human Nutrition and further Diploma in the Psychology of Eating.
She began her career as a nutrition and behavioural science research assistant, all the while, practicing Pilates on a daily basis to counteract the long periods of time spent sitting at a desk.
After a hiatus from research, working in high-end hospitality management for three years, Olivia made the decision to combine her love for working in a people-driven environment with her background in health and fitness. She went on to complete her level 3 personal training and Pilates qualifications before coming to Ten.
Olivia's approach to training is holistic, combining her expertise in fuelling the body optimally with Dynamic Reformer Pilates to help her clients achieve long-term sustainable results. Her classes are welcoming and varied, focusing on form and technique and how her clients feel in their bodies.
When not at the studio, you'll most likely find Olivia travelling the world, hosting a casual dinner party or trying out a new restaurant, cafe or bar opening in London.