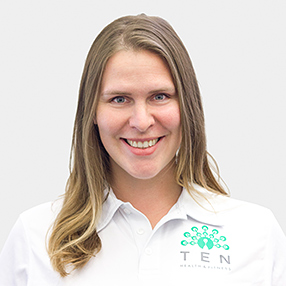 Qualifications:
Diploma and Certification of Registration in Massage Therapy (Canada)
– Deep tissue
– Prenatal
– Sports massage
– MET (Muscle Energy Technique)
– Myofascial Release
– Manual Lymph Drainage
– Joint Mobilization
– Therapeutic Exercises
Favourite Thing to Treat:
Shoulders/neck and hips.
Bio:
Hailing from Toronto, Ruth was trained in Massage Therapy in Canada where it is a regulated Healthcare Profession in the way Physiotherapy and Chiropractic are in the UK. Graduating in 2011, Ruth's practice is focused on the mind-body connection and treating the body as a whole. Her treatments can best be described as combining the knowledge of a Physiotherapist with a massage-based approach, resulting in an effective yet soothing experience.
Over Ruth's career, she has worked with a range of clients, from the average desk-bound office workers to women in all stages of pregnancy, not forgetting many amateur and professional athletes who use regular massage therapy for injury prevention and recovery. While she can decrease pain stemming from injuries, pregnancy discomfort, or a bad night's sleep, her passion lies with empowering the person to become aware of where they are in space and understand that how they move their body can contribute to their pain or it can help them heal. She promotes Massage as a Preventative Health Care modality and she is a staunch supporter of the benefits of touch therapy in terms of mental health. Just as the mind listens to the pain in the body, the body can and does listen to the pain in the mind.
Ruth's unique style of massage treatment is based on her formal Swedish training, and also borrows from fascial stretch and diaphragmatic breathing techniques to release locked tissues and de-stress the mind allowing the body to move more freely. She prides herself on listening to each client's body and using its feedback to give the right amount of pressure, whether deep to get through the layers of tissue or lighter for those more tender areas.
She stays away from the notion of no pain-no gain in her work and would rather work with her client's, mind, body and breath to break the pain cycle and restore movement to get them back to the life they want to have. Every treatment starts with an intake to help focus the treatment and ends with home-care exercises, stretches, or activities that will help each client feel better for longer.
Ruth is registered with the Complementary and Natural Healthcare Council (CNHC) and takes part in additional learning. She has done training in Cranial Sacral Therapy, Reiki and Fascial Stretch Therapy –  a neuromyofascial therapy that focuses on the connective tissue system to assess passive, active and resisted movements in functional positions as well as on the treatment table.
In her spare time, she loves exploring the nooks and crannies of London and getting lost on road trips down the smallest roads possible.