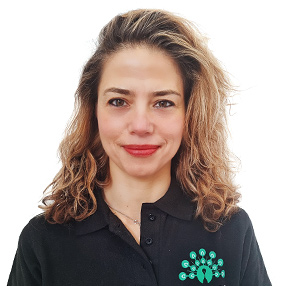 Qualifications:
MSc Dance Science, Trinity Laban Conservatoire of Music & Dance
BA Honours Contemporary dance, London Studio Centre
Certificate in Ballet Teaching Studies, Royal Academy of Dance
Pilates Equipment Training, Alan Herdman, Studio One
Stott Pilates Advanced Mat Work
Gyrokinesis® Level 2
Favourite exercise:
Leg circles on the reformer
Bio:
Originally from Athens, Sania trained at the Conservatoire De La Dance Et Music De La Rochelle in France,  and the world famous Ballet Des Lausanne 20em Siecle in Switzerland.
As a professional ballet dancer, Sania has worked with Opera de Lyon, Toulouse and La Rochelle in France, and Opera of Hannover and Rostock in Germany.
Injured as a dancer with an ACL ligament rupture and metatarsal inflammation, she discovered the value of  Pilates, firstly for rehabilitation and then to maintain and improve her fitness.
Following her dance career, Sania gained a degree in Fashion at Saint Martins College of Art & Design and went on to work with Alexander McQueen and Vivienne Westwood.
Trained as a Pilates instructor with by the renowned Alan Herdman, Sania's sessions benefit from her extensive knowledge of exercise and warm, caring nature.
Sania speaks fluent English and Greek.