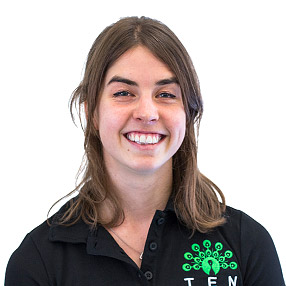 "Be kind to your body! It's the only one you've got."
Qualifications:
Level 3 Personal Training
HFE Diploma in Mat Pilates
Reformer Pilates
Favourite Exercise:
The Ice Breaker – this exercise gets your core every single time and you always feel it the next day.
Bio:
Simone discovered her love for the health and fitness industry back in New Zealand while studying at university, where her journey began in the comfort of her own apartment doing Youtube workouts between classes.
When she realised that an office job wasn't for her, she turned to personal training and fitness instruction, determined to help others find a healthy relationship with their bodies and exercise. Since then she has explored a wide range of different workout styles including strength training and HIIT, however she has always enjoyed and returned to Pilates, loving the core strength and improvements in her flexibility that she has noticed after her sessions.
After moving to London Simone decided to take another step in her fitness career and become a qualified Pilates instructor, with the desire to teach and show others the benefits of Pilates.
Overall Simone strongly believes that health and fitness should be a positive and fun journey for everyone. She brings a bubbly, welcoming energy to each of her classes and uses this to help motivate and challenge each participant, leaving them feeling great and wanting more!
Outside of teaching Simone has a strong passion for Aerial Circus, and you'll often find her hanging from the ceiling off silks and hoops. She also loves travelling and exploring different cultures and cuisine and taking mini get-aways to new locations.