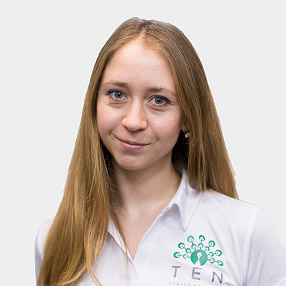 Qualifications:
Holistic Massage Diploma L4
Holistic/Swedish massage
Deep Tissue
Relaxation massage
Prenatal and labour massage
Hot stone massage
Favourite things to treat:
Shoulders and upper back.
Bio:
Timea's passion for wellbeing and body awareness started in her early teenage years when she trained Shotokan Karate for 4 years. As an active student, she enjoyed playing volleyball and going to different fitness classes, including Pilates, all the while deepening her understanding of the importance of holistic wellbeing and the mind-body connection. She also went on to study human physiology and nutrition, and their impact on one's health.
Timea completed her holistic massage diploma in London and is a member of MTI (Massage Training Institute).
Taking a holistic approach, Timea assesses and treats each and every client as an individual. She is able to draw upon her knowledge of multiple techniques, and combine these within a peaceful and comfortable environment to provide the most effective treatment for your specific needs.
She is a firm believer in resetting the body as well as the mind to promote natural healing and stress relief. This has allowed her to help clients from all walks of life to relieve tension and stress brought on from daily life, as well as to improve sports performance and recovery from injuries.
Outside the treatment room, Timea enjoys travelling to new places, practising yoga and always finds time to expand her knowledge of the human body.