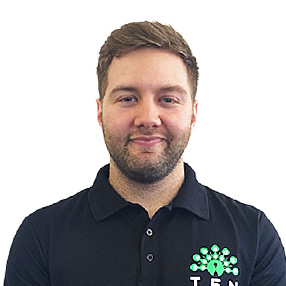 "If it doesn't challenge you, it won't change you"
Qualifications:
BSc Sport and Exercise Science
Level 3 Personal Trainer
Level 4 Cardiac Exercise Instructor
Favourite Exercise:
 Single Leg Deadlift
Tom has always been obsessed with all things sport, health and fitness related. From an early age, he tried his hand at everything, including football, athletics, swimming, and rugby, to name just a few. This contnued through school, leading him to study Sport and Exercise Science at university, where he specialised in human anatomy and physiology and the effects exercise has on the body.
Keen to combine his university studies with his passion for working with others, Tom completed his Gym Instructor and Personal Training qualifications. He enjoys working closely with clients to help them unlock their potential, overcome challenges, and become the best version of themselves that they can be. Whether it is teaching a new client the basics of the gym, or training elite athletes in a strength and conditioning environment, Tom feels that a combination of communication, team-work and dedication can achieve most goals.
Always striving to push himself and increase his knowledge in the industry, Tom went on to gain his BACPR Level 4 Cardiac Exercise Instructor qualification, allowing him to help clinical populations with exercise prescription. It was during this time that he fell in love with clinical exercise prescription, and the opportunity to help clients with specific clinical needs, goals, and requirements. For Tom, helping people restore their day-to-day fitness after suffering health problems is as much – if not more – of an achievement as hitting a personal best on a bench press or 5k best time.
As a result, Tom has worked with GP referral clients in both a 1-2-1 and group exercise setting. Working together to achieve a common goal, and facing a variety of barriers and physical conditions, is the way he loves to work. Being able to understand specific needs, work through obstacles in the most effective ways for the clients and continuously developing their health, wellbeing and confidence is a particular strength of his. From improving the range of motion at specific joints, to increasing cardiovascular fitness to improve the quality of daily functional activities – no matter the aim, if it's important to the client, it's important to Tom.
Tom combines high energy and enthusiasm with a depth of practical and theoretical knowledge to provide fun, valuable, and thorough sessions that will support clients on their individual journeys.