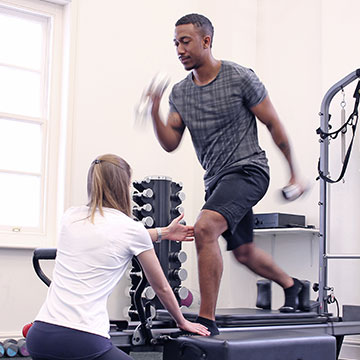 Why come?
The three most common reasons to have a Running MOT are:
you're new to running, starting back after a period off, or you're ramping up the intensity of your existing training regime, perhaps as part of marathon training or similar
you have a recurring injury or niggle, muscle soreness and/or tightness, or you've noticed a restriction in your ability to run freely and comfortably
to check for any underlying issues or predisposition to injury that might hamper you reaching your running goals
Whatever the reason, a Running MOT is a fundamental part of a prehabilitative approach to your training – think of it as preventative maintenance for your body to keep you running further, more efficiently and pain- and injury-free for longer.
Is it right for me?
Whether you're new to running or a seasoned pavement pounder, a regular Running MOT will set you up for success, as well as prevent some of the most common injuries runners are prone to.
The high intensity nature of running can take its toll on our bodies, especially bodies that might be sedentary the rest of the time through the nature of our jobs and lifestyles. Over time, all of us develop a number of compensatory movement patterns – it could be to get around areas of weakness, or the result of an injury, or in response to a lifestyle-related issue (working at a desk, wearing high heels, using a laptop or tablet are amongst the usual culprits). Given the repetitive nature of running these imbalances can lead to exaggeration of the imbalances. If they aren't addressed we overuse certain joints and before long this often leads to pain, injury and dysfunction.
So if you think it's worth spending a little time to have an expert Physiotherapist assess your posture, movement patters, range and quality of movement, to understand where you are now, what the issues may be, what's caused them, and what to do about it before they become painful, damaging or debilitating, then it's right for you.
And of course, if you've just signed up for a marathon, half-marathon, 5K, 10K or any distance, a Running MOT is a must to ensure you're fully prepared for the physical demands of your training.
What will it be like?
The session will start with a discussion related to your training/exercise background, previous injuries and health. Your Physio will discuss your goals in relation to running and the time/resources you have to commit to your training. He or she will take a look at your current running shoes, and discuss what type is right for you. An indepth assessment of the joints and muscles that are specific to running and their relationship with each other will help identify any potential areas of weakness that might need to be addressed. Finally a running assessment / gait analysis on a treadmill where we film you running technique in slow motion for in-depth analysis, will enable your Physio to identify immediate actionable changes to improve your running form straightaway.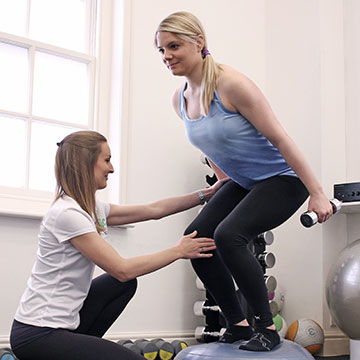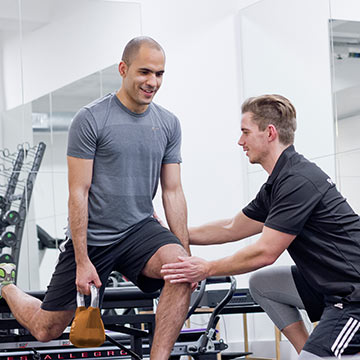 Results and benefits
Your Physiotherapist will then collate this information to develop strategies to minimise the risk of injury using techniques such as biomechanical correction, running technique correction and strength and stretching exercises to correct any weaknesses or imbalances.
He or she will devise you a plan to address the underlying issues, most likely giving you some form of takeaway exercise sheet (with pictures), of the most appropriate exercises/strategies that you need to perform to help resolve any issues your problems or prevent injury.
If required, we can recommend a number of additional treatments or preventative measures, often including manual therapy, Sports Massage, pilates or Personal Training.
And last but most definitely not least, you'll come away with a better knowledge and understanding of your running technique, how to prevent any injuries you might be predisposed to, and how to run better and faster for longer.