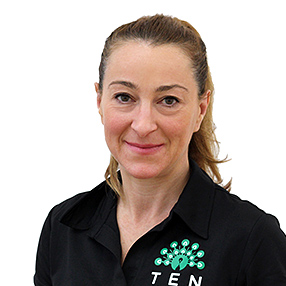 "Do everything that scares you"
Qualifications:
TenAcademy
Baccalaureat
Pilates Mat Level 3
Krav Maga Instructor
Exercise and Lifestyle Coach CHEK Institute
Program Design. Poliquin
Classes:
Favourite Exercise:
Cheerleader
Bio:
Caroll is originally from the Champagne region in France. To say that she likes travel and physical challenges is something of an understatement.
She has always been a keen horserider and a runner. When she moved to London she discovered Thai boxing, and after a few years' training, moved to Kho Samui where she trained for a further five months, taking part in three fights (and winning all three).
On returning to London, she was persuaded to enter her first London Marathon – the first of 14 marathons (5 of them in London) all completed in good times, along with a100km race, which she finished in just over 10 hours.
When she lived in Australia and Vanuatu she took up cycling, and as a result found herself competing in the Alpes d'Huez. With its 21 hairpins, this is one of the legendary ascents of the Tour de France, which she climbed in just over an hour on a steel bike.
Just to add an extra element of challenge (and yet more travel), Caroll trained in Krav Maga in Israel, qualifying as an Instructor. And picking up some injuries along the way, which in turn, introduced her to Pilates and her teaching qualification.
Over the past decade she has participated in a number of courses at the some most respected institutes in the field of holistic health and exercise. With her in-depth understanding (and personal experience) that functional movement patterns are essential to maintain a healthy, efficient and pain free body, Carroll ensures that Pilates is at the core of every exercise and programme that she does.
As a Trainer, Caroll is strict yet patient; a perfectionist but also a good motivator. As the basis of all Pilates, she insists on correct and transferrable technique in all exercises – so you can practice in everyday life what you learn in class. But above all, she aims to develop routines that suit, stimulate and encourage everyone in her classes.