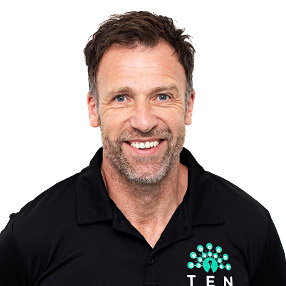 "People won't care how much you know, until they know how much you care."
Qualifications:
REPs Level 3 Personal Trainer
Ten Academy
Level 4 Lower Back Specialist
Classes:
Favourite Exercise:
The Deadlift – with correct technique, there aren't many muscles this exercise doesn't use.
 There are a number of variations and modalities to choose from, and it's particularly beneficial in strengthening the muscles around the spine, reducing the risk of injuries related to posture.
Bio:
Darren's experience in the health and fitness industry spans the past 20 years across a number of roles, from Personal Trainer and Studio Instructor to General Manager. But whatever his role his focus has always been the same: to deliver the best possible experience for his clients, time and time again.
While stability and control form the programming base for his training style – in order to load a joint effectively and avoid the risk of injury, that joint needs to be strong and stable – Darren's personal satisfaction and reward comes from his ability to understand his clients' motivations for their desired outcome, and then to support them effectively on their journey to achieve it.
He is a firm believer in leading an active lifestyle, not only for the benefits on our own physical, psychological and emotional wellbeing, but also the positive influence it can have on those around us.
Outside the studio, Darren continues to practice what he preaches. Sporting Performance and Coaching remain close to Darren's heart, particularly within rugby. Over the years, he has coached both teams and individual clients, with ages ranging from 8 to 80.
You'll still find Darren playing and coaching rugby for his local team, and during the winter months, he'll be looking for the first opportunity to grab his snowboard and get down a mountain.