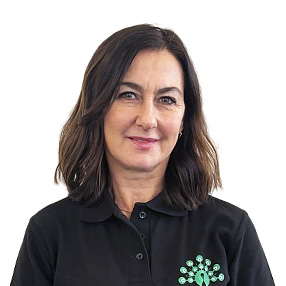 "Believe you can and you're half way there."
Qualifications:
REPS Leval 3 Pilates
Ten Dynamic Reformer Pilates
Classes:
Favourite Exercise:
I love anything that will challenge balance and coordination – this is especially important as we grow older.
After spending years as a hair stylist and bringing up 2 children, Karen decided to pursue her passion and train as a Pilates instructor and qualified in 2014.
Karen has always been active, keeping fit with her favourite bootcamp, HiiT and yoga classes. Though it wasn't until she injured her back that she was introduced to Pilates for rehabilitation, and she hasn't looked back since – going on to qualify as an instructor herself.
As Karen puts it, Pilates completely changed her life, and she is very passionate about sharing what she has learned and helping people achieve their goals.
In particular, she enjoys supporting people to overcome injuries, postural imbalances, strengthening core muscles and gaining all of the mind/body benefits Pilates brings.
For Karen, Pilates is a way of life, especially if you come out of a class feeling a lot better than you went in! She believes that taking care of our posture by strengthening the core muscles and correcting postural imbalances will help with the stressors that everyday life can bring.
Karen has worked with clients in a mixed group setting of all levels of fitness and ability. She also thrives working on a one-to-one basis, and she likes nothing better than seeing her clients improve over time. She believes that a little perseverance goes a long way!
In her spare time, she's a big fan of spin classes and the odd high intensity workout. Outside of the studio, she loves being out in nature taking long walks, and going horse riding when she gets the chance.