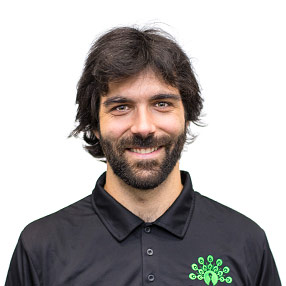 "We do not stop exercising because we grow old - we grow old because we stop exercising"
Qualifications:
MSc Exercise Physiology, Saint Mary University
PGdip Health Science and Sport
Emergency First Aid at Work
TenAcademy
Classes:
Favourite Exercise:
Balance work – single leg holds.
Bio:
Santiago (or Santi as he likes to be called) comes to Ten with a wealth of experience and expertise, having completing a PGdip in Brazil and a Master's in Exercise Physiology at St Mary's, London, where he developed specialisms in cardiovascular rehabilitation and postural correction.
As an exercise physiologist, Santi is passionate about ensuring he keeps himself as up to date as possible on new scientific evidence and research to continue expanding his knowledge.
Santi will take time to create a bespoke exercise prescription plan to ensure the client's needs always comes first whilst understanding the journey needed to reach health and fitness goals.
For Santi, there is nothing more rewarding than working with a client and helping them to improve their quality of life. Open and approachable, in both classes and 1-1 sessions his calm approach is balanced with his natural ability to engage and motivate his clients.
Since childhood, Santi has loved spending free time in the great outdoors, and when he's not working you'll find him such as hiking, kayaking or traveling with his camera taking snaps all over the world.