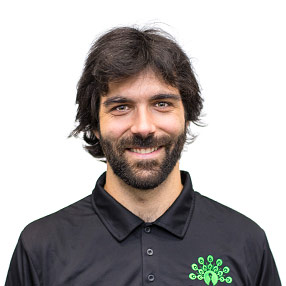 "We do not stop exercising because we grow old - we grow old because we stop exercising"
Qualifications:
Senior clinical trainer / Cardiac rehabilitation Lead
MSc Exercise Physiology, St Mary's University
PGdip Health-Science and Sport
British Association for Cardiovascular Prevention and Rehabilitation – Advance 4(BACPR)
TenAcademy
Classes:
Favourite area to treat:
Cardiac and pulmonary rehabilitation, lower back injuries.
Following his post-graduate course in Health Science and Sport, Santi began his career as a clinical trainer in Brazil, where he specialised in cardiovascular rehabilitation. With his skillset, he quickly built up relationships with the local GPs and consultants, working closely with their patients.
Santi has always been driven to expand his knowledge, keeping up-to-date with the most cutting edge research and information. He went on to complete a Master's Degree in Exercise Physiology at St Mary's University in London, with a focus on specialist populations with chronic conditions (diabetes, cancer and heart disease) and he subsequently qualified as a Level 4 BACPR.
Most people are aware of the great potential of physical exercise as medicine, but Santi firmly emphasizes that to obtain the greatest benefit, it is important to know how to identify the most appropriate type of exercise, as well as the intensity. That's why Santi believes in creating bespoke programmes for each individual, calling on his experience to adapt and modify exercise prescription.
Santi is an expert in dealing with patients suffering from cardiovascular and pulmonary conditions. He is supportive, caring and motivational, involving them in the programme the whole way, and giving them the confidence to get moving again following what might be a life-changing event.
For Santi, there is nothing more rewarding than working with a client and helping them to overcome any adverse situation, step-by-step, and to improve their quality of life.
In his free time, he loves keeping active himself. Hiking and outdoor activities are his biggest passion. Along the way, he loves to stop and capture the moment, with his excellent photography skills.