Ten Physiotherapy Fitzrovia
Ten's Fitzrovia Physiotherapy Clinic is perfectly positioned in the heart of the West End.

As with all our clinics aross London, we harness the power of Physiotherapy to change lives. Unlike many Physio practices, we believe in addressing the cause rather than just the symptoms of injury or dysfunction to reduce pain, decrease stiffness and increase mobility, and to help our clients become stronger, happier and injury-free.
Opening hours:
Monday: 7am-8pm
Tuesday: 7am-8pm
Wednesday: 7am-8pm
Thursday: 8am-8pm
Friday: 8am-7pm
Saturday: 8am-3pm
Sunday: 9am-4pm
How to find us:
The premises are located on Great Titchfield Street, a short walk from Oxford Street.
Nearest Tube/Train stations: Oxford Circus, Great Portland Street, Godge Street.
"TenPhysio feels like a kind of magic"
THE TIMES
Physio treatments at Ten Fitzrovia
Back and neck pain
Sports injuries
Joint and muscle sprains
Pre and post surgery
Pre and post natal
Biomechanical assessment and correction
Postural assessment
Gait analysis
Body MOT
Dry needling
Read more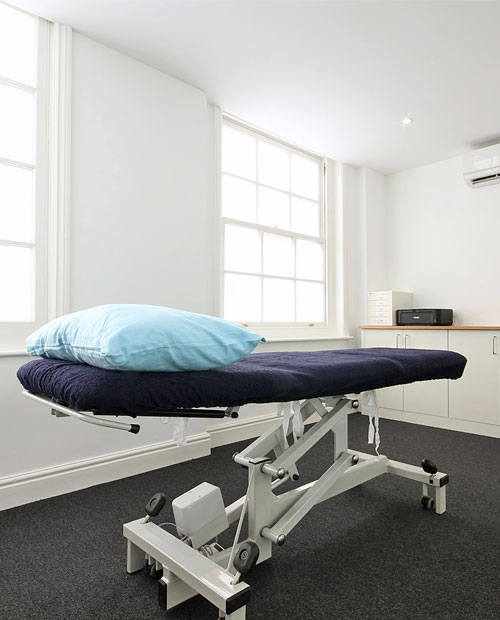 Private Health Insurance

Our physiotherapists are registered with all major Health Insurance Providers (including Bupa and Axa PPP). Please call your preferred studio to arrange a booking.
Our team
Our Physios are amongst the best in London. All are State Registered, have postgraduate qualifications and are members of the Chartered Society of Physiotherapy. Expert and highly qualified, our Physiotherapists are chosen as much for their warm, genuinely caring attitude and positive approach as for their clinical expertise.

Meet the full team
"TenPhysio are without doubt responsible for getting me back on my feet"
The Resident