Industry leading professional development

Learn from one of the top Reformer Pilates providers in the world

Workshop price: £250 per person
About the Course
This workshop provides existing level 3 Pilates instructors with the skills and expertise they need to construct and deliver an effective, high quality Advanced-level Dynamic Reformer Pilates class or 1-2-1 session.
In this workshop, attendees will develop their existing Reformer Pilates teaching skills by exploring the benefits of linking exercises in ways that will challenge their existing advanced clientele. Attendees will learn how to incorporate exercises that develop both neuromuscular strength and functional flexibility into their teaching, developing the expertise required to help their clients move more effectively and efficiently.
Rather than relying on teaching techniques that provide little stimulus and more resistance, attendees will learn to create a dynamic three phased session plan, that will better support the progress of their client, and their progress as a teacher – taking their teaching skills to the next level in their career.
---
Workshop structure
Designed and structured by Ten's Head of Fitness, this is a 5 hour workshop.
There is no pre-course reading requirement. However, you may wish to review the content available on Ten's online learning portal ahead of the session including:
Videos and detailed explanations of all exercises
Spring selections and options
Teaching cues and watch points
Exercise progressions and regressions
You may also wish to consider attending one of Ten's Advanced Dynamic Reformer classes prior to the course start date (2 free class credits are included in Workshop price).
"I initially applied because of Ten's reputation as being the gold standard of Dynamic Reformer and it definitely lived up to my expectations."
David Lam, London
Learning Outcomes
Through successful completion of the workshop, attendees will be able to:
Recognise Advanced Dynamic Reformer class safety, setup and how the studio environment should look and feel to a client
Demonstrate ability in recognising neural sequencing and developmental relationships between particular exercises, with the underpinning message of quality (opposed to the quantity of) movement.
Construct a template to create a framework for advanced exercises.
Construct ever-evolving class plans, involving the key elements designed to develop your client.
Recognise the benefit of delivering a particular exercise within a particular phase of the class, and how to communicate this to a client, linking their learning from exercise to exercise.
Understand the benefits of beginning a session with the appropriate mobility-based exercises sequenced together efficiently, and how to provide a strong link to the following phases of the session (activation & integration) for a client, including all progressive options.
Use the activation phase of a session to mobilise the key joints/muscles and provide a firm base from which the integration phase of a session can be delivered, including all progressive options.
How to use the integration phase of a session to provide clients with the functional patterns that will enable them to move more efficiently, including all progressive options.
Learn how to layer the delivery of exercises, encouraging clients to undertake manageable techniques to ensure smooth development without the risk of injury.
Learn how to cue exercises using vocal, visual and kinaesthetic techniques to provide inclusive learning for all types of clients.
---
Who is this workshop for?
Pilates teachers (L3 Qualified or above)
Physiotherapists
Osteopaths
Rehab Specialists
Sports Therapists
Please note, you must hold a level 3 Pilates qualification and Reformer qualification/certificate to attend this workshop.
---
About Ten Education
For rehabilitation, fitness and exercise professionals who understand the importance of quality of movement, a TenEducation Dynamic Reformer certification is a powerful addition to their repertoire of treatment and teaching tools.
Established in 2007, Ten has trained hundreds of health and fitness professionals to use the Pilates Reformer machine and help their clients and students to move better. Once certified, you too will able to use the Reformer effectively, safely and expertly in both group and 1:1 sessions.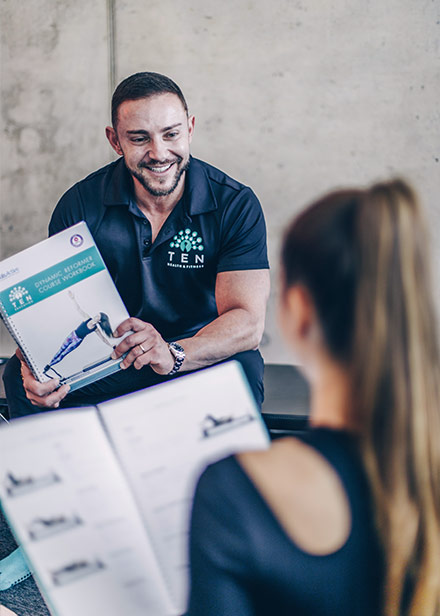 ---
Why learn with Ten?
"Ten Health & Fitness are miracle workers." – Daily Telegraph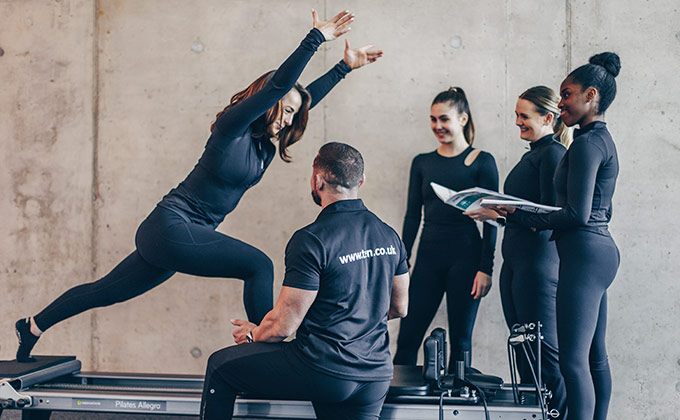 Get certified with the recognised Industry leaders:
Dynamic Reformer Pilates is at the heart of everything we do at Ten. We first introduced Londoners to Dynamic Reformer Pilates over a decade ago, and we've continued to pioneer its development since. With over 250 classes a weeks across our Studios, our industry-acclaimed approach has made us the largest and most popular Dynamic Reformer Pilates provider in Europe. You'll see our classes featured regularly in both the fitness industry and popular press and our name is synonymous with quality and results.
A proven, popular and practical approach to the Reformer:
You'll learn how to teach our innovative, highly regarded approach. Through our in-house and external academy we have taught hundreds of health and fitness professionals who have gone onto careers with both us and at fitness providers around the world.
Expert course teachers and course design:
All courses are taught by Ten Master Trainers and/or Tutors – some of the most respected, experienced and qualified Trainers in the industry and all with a wealth of practical experience with clients of all ages, levels and capabilities.
High quality resources to support your learning
As soon as you're registered for the course you'll have access to our online learning portal which includes access to all course material including:
Video and detailed explanations of exercises
Setups, teaching cues and watchouts
Exercise progressions and regressions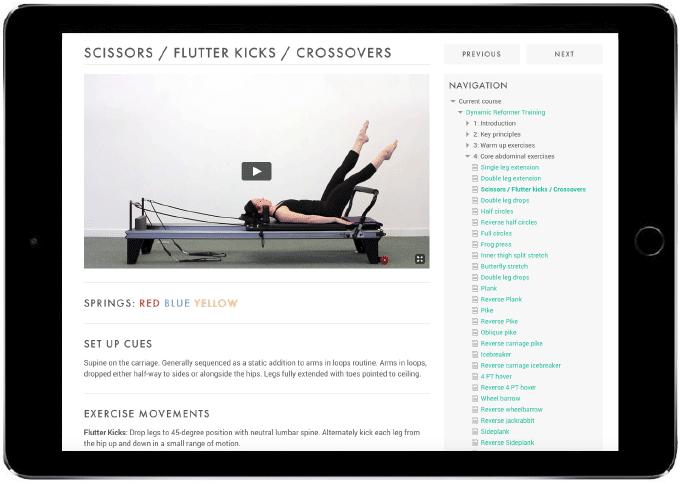 You will also be expected to attend classes as necessary, and to manage your own self study from the materials provided.
---
Testimonials from Previous Students
"Thank you! The support you offered was amazing."
"Very professional and helpful throughout the whole month of learning."
"Highly recommended! The teaching was outstanding and the content was incredibly interesting and challenging."
---