Industry leading professional development

Learn from one of the top Reformer Pilates providers in the world

Workshop price: £250 per person
About the Course
Bend the rules of a classical Reformer class and make your teaching stand out with the Pilates Jumpboard.
This unique workshop will show you how to safely and effectively deliver and teach Jumpboard classes. You'll learn a range of exercises and progressions that can be taught to clients at all levels – from novice to advanced.
Adding Jumpboard creates another dimension to an existing multi-faceted Reformer workout. It provides access to multi-planar, plyometric-based activity, which provides cardiovascular benefits to the reformer-based class or session – as well as being just plain fun! This higher intensity workout is for clients that require a challenge, without sacrificing the quality and safety delivered in a TEN reformer-based class.
---
Workshop structure
Designed and structured by Ten's Head of Fitness, this is a 5 hour workshop.
There is no pre-course reading requirement. However, you may wish to review the content available on Ten's online learning portal ahead of the session including:
Videos and detailed explanations of all exercises
Spring selections and options
Teaching cues and watch points
Exercise progressions and regressions
You may also wish to consider attending one of Ten's Reformer Jumpboard classes prior to the course start date (2 free class credits are included in Workshop price).
"I initially applied because of Ten's reputation as being the gold standard of Dynamic Reformer and it definitely lived up to my expectations."
David Lam, London
Learning Outcomes
Through successful completion of the workshop, attendees will:
Know how to provide plyometric-based exercise and how it can be developed to accommodate the level of clients within the class.
Be able to provide a safe environment to deliver a Reformer Jumpboard class
Know how to safely mount the Jumpboard onto the Reformer and be able to explain this to those participating within the class
Be able to construct a class template using an extensive repertoire of exercises – enabling you to keep your class content fresh and helping clients break through exercise plateaus.
Understand how the resistance provided by the springs on the reformer can change the dimensions of the exercise creating varied effects, from rehabilitation to sport specific workouts.
---
Who is this workshop for?
Pilates teachers (L3 Qualified or above)
Physiotherapists
Osteopaths
Rehab Specialists
Sports Therapists
Please note, you must hold a level 3 Pilates qualification and Reformer qualification/certificate to attend this workshop.
---
About Ten Education
For rehabilitation, fitness and exercise professionals who understand the importance of quality of movement, a TenEducation Dynamic Reformer certification is a powerful addition to their repertoire of treatment and teaching tools.
Established in 2007, Ten has trained hundreds of health and fitness professionals to use the Pilates Reformer machine and help their clients and students to move better. Once certified, you too will able to use the Reformer effectively, safely and expertly in both group and 1:1 sessions.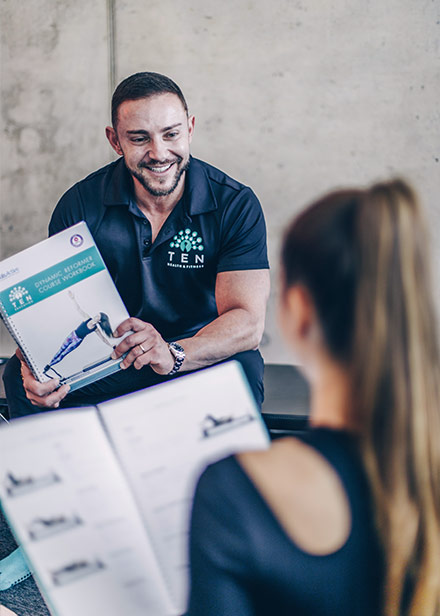 ---
Why learn with Ten?
"Ten Health & Fitness are miracle workers." – Daily Telegraph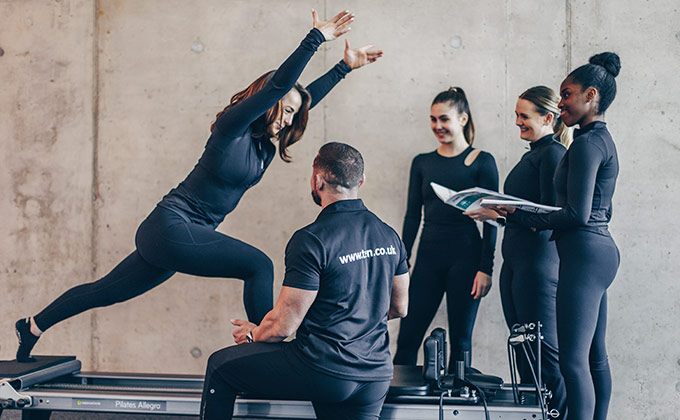 Get certified with the recognised Industry leaders:
Dynamic Reformer Pilates is at the heart of everything we do at Ten. We first introduced Londoners to Dynamic Reformer Pilates over a decade ago, and we've continued to pioneer its development since. With over 250 classes a weeks across our Studios, our industry-acclaimed approach has made us the largest and most popular Dynamic Reformer Pilates provider in Europe. You'll see our classes featured regularly in both the fitness industry and popular press and our name is synonymous with quality and results.
A proven, popular and practical approach to the Reformer:
You'll learn how to teach our innovative, highly regarded approach. Through our in-house and external academy we have taught hundreds of health and fitness professionals who have gone onto careers with both us and at fitness providers around the world.
Expert course teachers and course design:
All courses are taught by Ten Master Trainers and/or Tutors – some of the most respected, experienced and qualified Trainers in the industry and all with a wealth of practical experience with clients of all ages, levels and capabilities.
High quality resources to support your learning
As soon as you're registered for the course you'll have access to our online learning portal which includes access to all course material including:
Video and detailed explanations of exercises
Setups, teaching cues and watchouts
Exercise progressions and regressions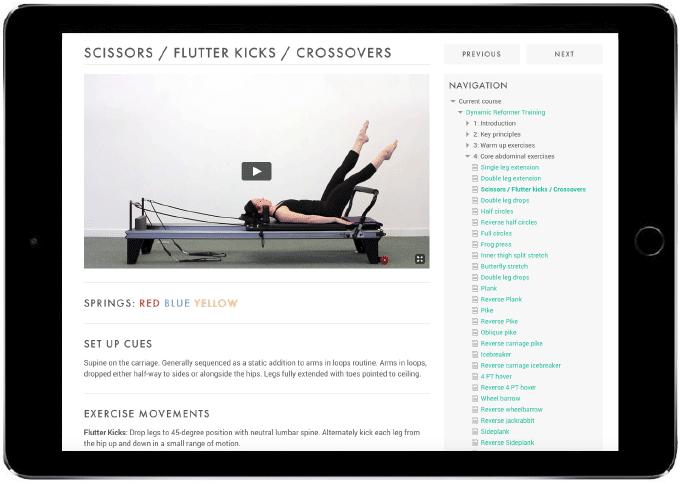 You will also be expected to attend classes as necessary, and to manage your own self study from the materials provided.
---
Testimonials from Previous Students
"Thank you! The support you offered was amazing."
"Very professional and helpful throughout the whole month of learning."
"Highly recommended! The teaching was outstanding and the content was incredibly interesting and challenging."
---