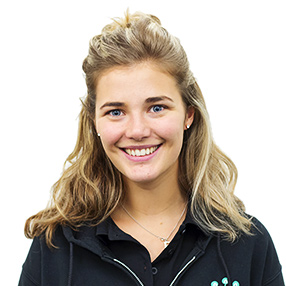 "Doubts kill more dreams than failure ever will."
Qualifications:
BSc Sport and Exercise Science
Level 4 Cardiac Exercise Instructor
Level 4 Cancer and Exercise Rehabilitation
TenAcademy
Classes:
Favourite Exercise:
Overhead squat – There is no better exercise to highlight the body's weaknesses. You can have a physique to rival Zeus himself but if you can't perform a 10/10 overhead squat then it's back to basics!
Bio:
Frances has had a love for sport as long as she can remember. Running around a hockey field on frosty Sunday mornings aged eight eventually evolved into a degree in Sport and Exercise Science at Loughborough University (though she can still be found running around a hockey field on frosty Sunday mornings).
Over the course of her degree, Frances developed a passion for exercise prescription and lifestyle modification, wanting to help people move better whilst living heathier and happier lives.
Frances enjoys the client journey, focusing on all aspects of exercise, nutrition and lifestyle to achieve the kind of functional and sustainable results that will benefit a client every single day. She works to the needs of the body, developing strength and flexibility whilst identifying and correcting muscular imbalances created by our 21st century lifestyle to minimise the risk of injury.
Frances loves nothing more than proving to someone that they can do something and that, with the right attitude, anyone can achieve anything.
Over the past three years, she has worked with a range of clients from age 16 to late 80s with both clinical and non-clinical backgrounds. She has helped people from all walks of life achieve their goals, whether that's to return to walking unaided right through to helping clients return to top-level competitive sport.
Dynamic Reformer Pilates adds another string to Frances' bow and she is passionate about its seemingly unlimited potential for rehab and for developing the building blocks for functional strength training.
Upbeat, encouraging and super-smiley, Frances brings a warmth and infectious enthusiasm to her classes – along with a breadth of technical knowledge and experience.