---
Pre & post natal Physiotherapy
Even with the safest and most straightforward pregnancy and childbirth, the normal and natural changes that your body is undergoing can be uncomfortable and worrying.
With the right support at the right time, you will be able to cope better with these changes and recover faster from their impact.
We can assess, diagnose and treat the conditions or pain you may experience, during or after pregnancy. We can provide advice or guidance on any symptoms, issues or concerns. And we can provide support, reassurance and confidence as your pregnancy develops or you prepare for or recover from labour.
And through Ten's Circle of Care, we work closely with our training team to help you gain maximum benefit, safely, from the classes on offer.
Book session
Make Enquiry
Why come to Ten for pre & post natal Physio?
Ten's Women's Health Physios have undergone specialist training, to help you manage many of the conditions or issues that can arise during and after pregnancy, progress safely through the trimesters, and help you recover faster afterwards. All of Ten's Pre and Post Natal Physiotherapists are registered with the Pelvic, Obstetrics and Gynaecological Physiotherapy (POGP) society.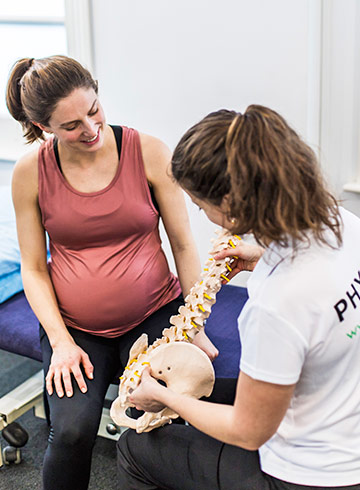 If you are pregnant
There are a number of reasons why you might choose pre natal Physiotherapy, particularly if you are experiencing any pain or discomfort due to your pregnancy, want more information about safe posture and movement, or would like to start or continue exercising.
Some of the more common reasons why you would benefit from an assessment, treatment or follow-on sessions include:
a musculoskeletal assessment will help identify any areas of weakness, or disfunction that could injury, pain or other issues during your pregnancy or childbirth
pain relief – lower back pain, pelvic pain, sciatica and carpal tunnel syndrome are common when you are pregnant. We can help relieve the pain, and give you advice, tips and exercises to help you manage any discomfort between appointments
we can show you how to manage your sitting, standing and lying posture and body positioning to keep you safe and comfortable as your pregnancy develops
guidance on how to exercise safely during pregnancy, from pelvic floor training through to advice and guidance on how to modify your preferred workouts, from running to gym sessions
we can create a bespoke prenatal exercise programme for you, designed specifically around you and your pregnancy
in person 1-1 sessions to take you through your exercise programme
preparation for labour
After childbirth
Some of the more common reasons why you would choose post natal Physiotherapy – whether an assessment, treatment or follow-on sessions – include:
a musculoskeletal assessment will identify any areas of weakness, or disfunction post childbirth that could cause pain or injury going forward
advice and treatment for any pain discomfort you are feeling post-pregnancy
DRAM (diastasis recti abdominal muscle) check
care and advice following a C-Section or tear, or if you have haemorrhoids
advice and support to help you return to activity and exercise safely post pregnancy – from pelvic floor training to returning to your preferred workouts, from running to gym sessions – with guidance on managing your progress
we can create and deliver a bespoke post natal exercise programme for you, designed specifically around you and your needs
relief of lumbar and/or pelvic pain
guidance on safe movement and posture to avoid injury or discomfort when lifting, carrying or feeding your baby
breast care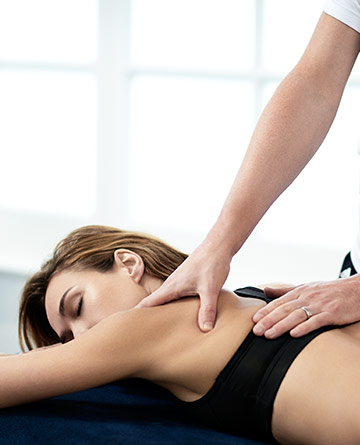 Meet the team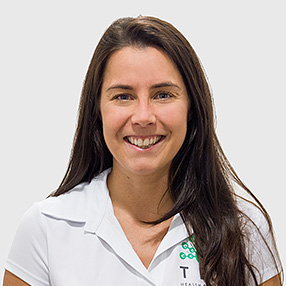 Kendall
Prices & insurance
We are registered with all major PHI providers for both pre and post natal Physiotherapy. Please call your preferred studio to arrange a booking.
View insurance codes
Insurance provider codes
BUPA:
80010618 - Notting Hill
80010618 - Chiswick
80010618 - St James's
80010618 - Mayfair
80010618 - Hatton Garden
80010618 - City
80010618 - Fitzrovia
80010618 - Little Venice
80010618 - Tottenham Court Rd

AXA-PPP:
ZZ02049 - Notting Hill
ZZ02607 - Chiswick
ZZ02429 - St James's
ZZ02168 - Mayfair
ZZ02888 - Hatton Garden
ZZ03038 - City
ZZ04269 - Fitzrovia
ZZ01679 - Little Venice
ZZ04486 - Tottenham Court Rd

---
Self-pay prices:
Initial pre/post natal Physiotherapy assessment: £130 (60 mins)
Follow up appointments: £135 (60 mins) | £80 (30 mins)
Self-pay sessions can be bought and booked online or by calling your preferred Studio
Book session
Call Studio
---
FAQ's
– How does this differ from Ten's standard prenatal assessment?

Ten's Pre Natal assessments are required for any client wanting to start or continue classes at Ten. They are primarily designed to ensure that it is safe for you to do so, to identify any reasons why you should not continue to train, to make sure that you know what exercises are – and are not – safe for you to do in class, and to make sure that you are comfortable with specific exercise regressions and modifications.

Pre and Post Natal Physiotherapy covers a much wider set of needs. It will address any physical issues arising from your pregnancy, whether related to exercise or not. We provide expert assessment, treatment and advice with any issues related to pain, discomfort, restricted movement and areas of weakness or injury. And we can help you begin, continue or resume exercise safely – whether or not you exercise at Ten.

– Can I be assessed during the current lockdown?

As you will be seeing a Physiotherapist, face-to face assessments, treatments and 1-1 follow-on sessions are permitted during lockdown. If you are not able willing to come to the studio, some sessions can also be provided by video.

– Who would I be assessed by?

Pre and post natal Physiotherapy sessions are delivered exclusively by our specialist Women's Health Physiotherapists.