Industry leading professional development

Learn from one of the top Reformer Pilates providers in the world

Course price: £299 per person
About the Course
TEN's Pre and Post Natal CPD enables the trainer to have an understanding of how each trimester affects the anatomy and physiology of the female body and how we can promote safe and healthy activity within these stages of pregnancy. Often female clients are eager to get back into a fitness regimen during the postnatal phase. As a result, returning to exercise can be not only daunting but also physically demanding.
This CPD will provide an awareness of the difficulties that the female clients may encounter and how to combat particular issues. This CPD is delivered within 2 separate days. The first day will cover the learning content, while the second day covers both theory and practical assessment.
---
Course structure
The course will be delivered over 2 separate days, consisting of one day of content delivery and one day of assessment (theory and practical-based).
---
Learning Outcomes
The learner will be proficient in understanding the anatomical and physiological journey of a female client participating within exercise throughout pregnancy and the benefits that can be gained from activity.
The learner will identify how environmental differences can influence the outcome of the session - Ie, room temperature, lighting, hydration and time of session.
The learner will identify with key watch points/red flags for prenatal participants during exercise and how this can influence exercise selection.
Learners will show competence in delivering the correct exercise to a prenatal client within a particular trimester (1, 2 & 3). This includes offering a modified exercise within a class setting of varied trimesters.
Learners will show competence in identifying unique characteristics of a postnatal client. The learner will demonstrate need to gauge Diastasis Recti, methods to combat this issue and contra-indications of said dysfunctions.
Learners will show competency in taking the exercises and structure they have learnt into a class, suitable for the predetermined level.
---
Who is this course for?
Mat or Equipment Pilates teachers (level 3 or above)
Physiotherapists
Women's Health Specialist(s)
Kinesiologists / Movement Specialists
---
About Ten Education
For rehabilitation, fitness and exercise professionals who understand the importance of quality of movement, a TenEducation Dynamic Reformer certification is a powerful addition to their repertoire of treatment and teaching tools.
Established in 2007, Ten has trained hundreds of health and fitness professionals to use the Pilates Reformer machine and help their clients and students to move better. Once certified, you too will able to use the Reformer effectively, safely and expertly in both group and 1:1 sessions.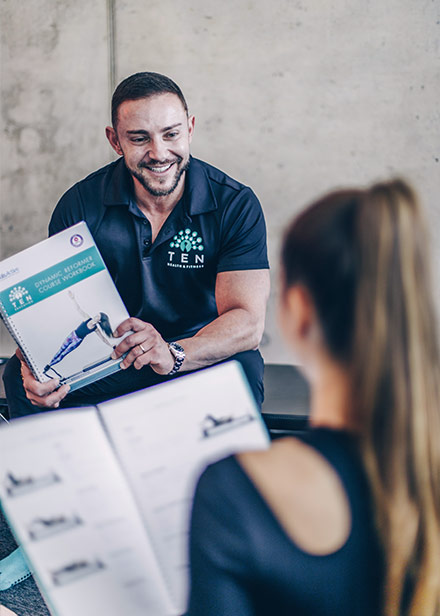 ---
Why learn with Ten?
"Ten Health & Fitness are miracle workers." – Daily Telegraph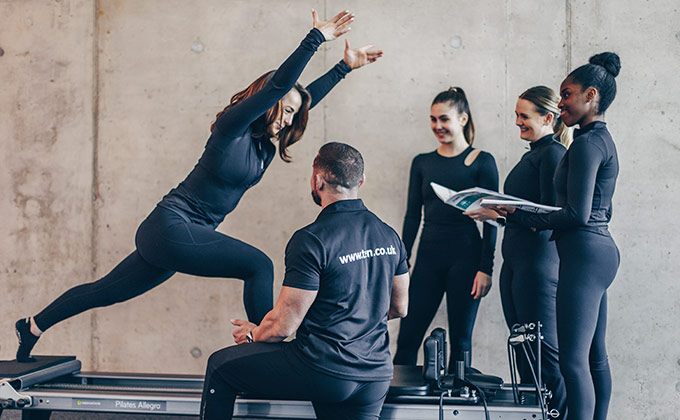 Get certified with the recognised Industry leaders:
Dynamic Reformer Pilates is at the heart of everything we do at Ten. We first introduced Londoners to Dynamic Reformer Pilates over a decade ago, and we've continued to pioneer its development since. With over 250 classes a weeks across our Studios, our industry-acclaimed approach has made us the largest and most popular Dynamic Reformer Pilates provider in Europe. You'll see our classes featured regularly in both the fitness industry and popular press and our name is synonymous with quality and results.
A proven, popular and practical approach to the Reformer:
You'll learn how to teach our innovative, highly regarded approach. Through our in-house and external academy we have taught hundreds of health and fitness professionals who have gone onto careers with both us and at fitness providers around the world.
Expert course teachers and course design:
All courses are taught by Ten Master Trainers and/or Tutors – some of the most respected, experienced and qualified Trainers in the industry and all with a wealth of practical experience with clients of all ages, levels and capabilities.
High quality resources to support your learning
As soon as you're registered for the course you'll have access to our online learning portal which includes access to all course material including:
Video and detailed explanations of exercises
Setups, teaching cues and watchouts
Exercise progressions and regressions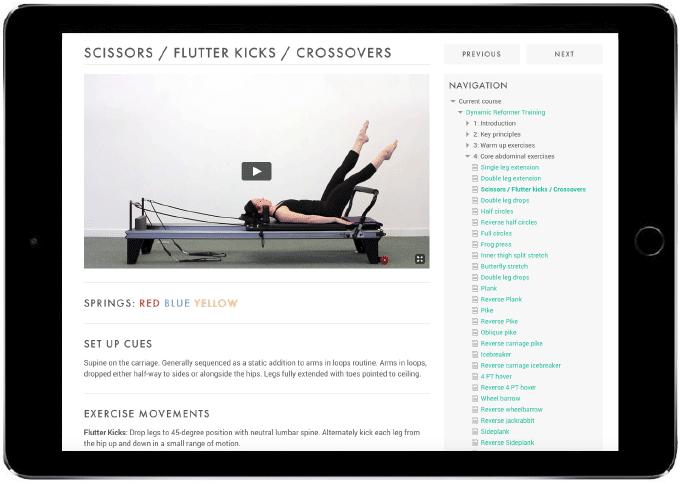 You will also be expected to attend classes as necessary, and to manage your own self study from the materials provided.
---
Testimonials from Previous Students
"Thank you! The support you offered was amazing."
"Very professional and helpful throughout the whole month of learning."
"Highly recommended! The teaching was outstanding and the content was incredibly interesting and challenging."
---