This month's Trainer Spotlight features Eleftheria Anastasiadou, who talks about the moment she realised she wanted to become a trainer, the challenge of learning to teach in a new language and why she can often be found up in the air or breathing fire.
"I aim to push people to their limits but ensure that this is done safely."
How did you end up working in health and fitness?
I have been a dancer all my life. I was a hyperactive kid so my parents sent me to dance classes from the age of 3 – and I haven't stopped since.
From a really young age I had to support my family, my dreams and my training so I started work in clubs as a dancer. In Greece you can make a good living from this – and there aren't too many any other good dance jobs going.
When it came to deciding what to study, I wanted something that would challenge me both physically and mentally. Sports Science was the closest to that, and from there, helped set me up for my career – or careers – as a dancer and performer (and not forgetting a Pilates instructor!)
What inspired you to want to work in the industry?
I remember when I was 19 and had just started teaching Mat Pilates back in Greece alongside studying for my degree. A lady in her mid 40's came to me at the end of one of my classes, grabbed my hands and thanked me, telling me she no longer experienced pain, thanks to my classes. It may sound dramatic, but I felt so proud of myself and that was the moment I realised how much I can help people with what I was studying.
Could you tell us a bit more about your life as a performer?
While I was working as a dancer in Greece, I met my first aerialists. I was fascinated by what they were able to do and as I'm never short of energy and always up for a challenge, I decided to train with them. However there is a shortage of good aerial teachers back home, so as soon as I arrived in London I found some of the best aerialists worldwide to train me.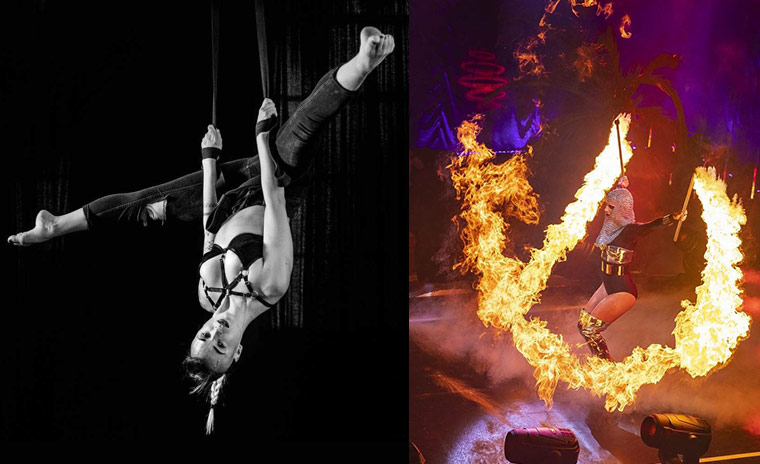 And what about the circus work? How did that start?
I'd arrived in London and was working as a dancer (I'm always dancing!) and was really impressed with what the people I was working with could do with fire. So I found the best fire school in London and started training there.
What is your favourite form of exercise outside of the pilates studio?
I'm going to say I love hitting the gym and doing weights. I love seeing the results in my body from a balanced personalised weights program that meets the needs of my life.
Does your circus work mean that you have to train specifically for it?
Circus training has to be very specialist in terms of the apparatus you want to train on. It's also not something you can do anywhere – you need really high ceiling for a start! The training is tough, too. It can get really intense, and as my regular clients will have noticed,  my biceps (all my body generally) are constantly bruised, and my wrists have callouses and scars, but it's worth it – the more you train the better you become.
What were you doing before working at Ten?
Before joining Ten I was studying for my second degree, a masters in Dance Science, which is what first brought me to London. I was also working part time alongside my studies as a lifeguard.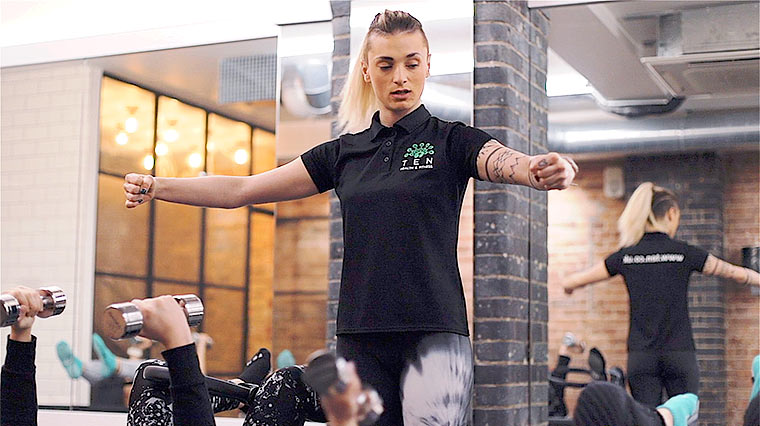 What is the best part about your day to day role as a trainer?
I love that every day is different. I'm super active and can't imagine myself for one minute working in a job where I'm sat in an office for 8 hours. As a trainer I have the opportunity to change my schedule everyday, meet different people, say different things and set new challenges. I get to watch clients progress, and I love the sense of satisfaction I get when I see them achieving their goals.
What can clients expect from your classes?
They'll see physical improvements – and they'll also improve their postures, alignment and build muscle endurance to help them move better and more strongly in their day-to-day life and activities. I aim to push people to their limits – but ensure that this is done safely.
What have you learned whilst working at Ten?
I learnt how to teach in a different language. That was like learning everything from the beginning!
I had great people teaching me who were brilliant at communicating and sharing their love and passion for what they doing! And as someone with a love of studying, I really enjoyed that they based their teaching in science and not just experience.
"If you think of your body as a whole and try to divide the load of the exercise in all your body, it helps you to keep going."
What piece of advice do you often give to clients during your classes?
I often tell people to think of their body as a whole. People tend to focus on just one particular muscle group and end up getting really tired very quickly. Whereas instead, if you think of your body as a whole and try to divide the load of the exercise in all your body it helps you to keep going.
When you're not at Ten, what can you been found getting up to?
I am always training! You can either find me on stage performing, in the air practicing new shapes on my hoop and straps,  or in a dance studio improving my technique.
What is your favourite place or thing to do in London?
I love cycling, especially along London's canals.