Today's trainer spotlight is focussed on Frances Bowden. Frances can be found teaching at our City and Fitzrovia studios and she's also a Clinical Trainer for our bespoke exercise prescription programme – TenClinical. Frances is sharing her best motivational advice for achieving goals, along with telling us how her passion for running led her to wine tasting in a French vineyard.
"I love nothing more than a client achieving something that they didn't think they could do."
Can you tell us about your day to day role at Ten?
No two days of my week are the same – and that's the beauty of it! I usually teach around 10 hours of classes per week across both Fitzrovia and City. Around these classes, I see clients referred to me by their consultant for structured Clinical exercise rehabilitation sessions. The background of my clients and the conditions they present with varies widely from cancer, cardiac, and multiple sclerosis to general mobility issues, and I work with them on a 1-1 basis, often for an extended period of time. Around these Clinical sessions, I fit in meetings with many of London's top cardiologists and oncologists and try to keep on top of the latest news in clinical exercise, which is a constantly developing field.
What is your favourite part of your day to day role at Ten?
My clients. I usually see clients twice a week for a period of six months or more, so I get to know both their body and mind pretty well.
What can clients expect from your classes?
I love nothing more than a client achieving something that they didn't think they could do, and as a result of this I have been told my classes can be quite challenging (!). However in equal measures to tough, you can expect unlimited encouragement, constant corrections and the occasional one liner. But most importantly you can expect to walk out the door knowing that you gave it your all and that you will reap the rewards afterwards, whether that be the banishment of lower back pain or digging out those abs you've been dreaming of.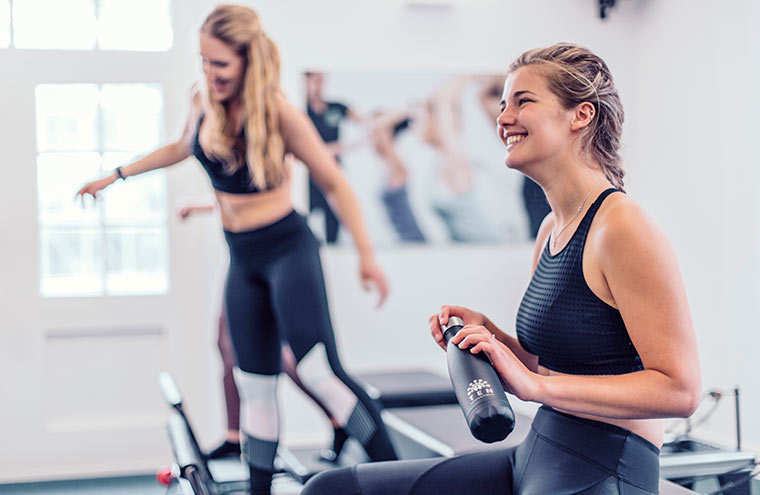 What inspired you to work in the health and fitness industry?
I finished school at 18 knowing that I enjoyed PE, liked science but wasn't too concerned by much else. This led me to a degree in Sport and Exercise Science at Loughborough University. Many people know of Loughborough due to its reputation in Performance Sport which, whilst I thoroughly enjoyed participating in, didn't want to pursue as a career. I instead set out to apply my newfound knowledge to help people who in many cases thought they were 'too ill' or 'too unfit' to exercise. This then developed into working with Clinical populations (predominantly cancer and cardiac) to help them take back control and maximise their health on their own terms whilst using exercise as a mechanism to support their ongoing treatment.
What is your favourite form of exercise outside of the pilates studio?
I am a keen runner and use this as my means of exploring new places. As a side note, Pilates has only been a regular commitment in my life since starting at Ten and I seem to now be running faster with less injuries. Coincidence? Probably not. I recently combined my two favourite pastimes by running the Marathon Du Medoc in Bordeaux  – a full marathon distance through the vineyards of France's most famous wine region punctuated by not 1, not 2 but 26 wine tasting (and oyster) stops. Definitely one for the bucket list!
What is your favourite exercise on the reformer?
Be it simple, but I love the double trouble hip flexor stretch. The world has basically got it in for hips – sitting tightens them, walking tightens them, we just can't win. Just 2 minutes spent releasing the hips at the start of class allows you to go on and perform the rest of the exercises in their correct manner with a much improved technique, thus maximising the benefits of those evil lunges!
"People are often referred to us at their lowest but to see them improve physically, as well as mentally, is hugely rewarding."
What is your role in TenClinical?
As a Clinical Trainer, I see clients for assessments and exercise sessions along with working with leading consultants to develop partnerships and referral pathways, ensuring that anyone in London who may need us, knows where we are. I also work alongside Adam, Ten's Clinical Lead, to develop the service and to try and keep on top of the constant new research to ensure that we are giving our clients every tool we can to help them get the most out of the service and ultimately life. People are often referred to us at their lowest but to see them improve physically, as well as mentally, is hugely rewarding.
What has working at Ten taught you about clinical exercise?
Ten has shown me the beauty of a multi-disciplinary approach. To have some of London's best physios and massage therapist in the room across the hall has proved invaluable and has shown the real strength of a team approach.
What is your best piece of advice for someone working towards a goal?
I'd always ask 'do you really want it?'. I often tell my clients that it's all well and good setting a goal, plucking arbitrary numbers out of the air or taking suggestions from others about where they think you should be or what you should be able to do in 6 months' time but if you yourself are not invested in it, your chances of success are low. Take it back to basics and ensure that any goal you set follows the SMART guidelines – specific, measurable, achievable, realistic and time-specific.
Where is your favourite place or thing to do in London?
I'm a bit of a 'fake Londoner' – I love brunch and at weekends can usually be found paying over the odds for some smashed avo and eggs that I could easily have made at home, but that's no good for Instagram is it?