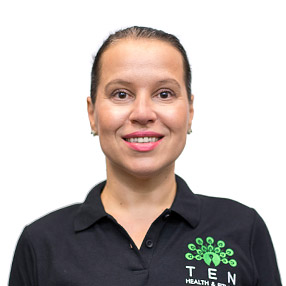 "You only gain in the posture you train"
Qualifications:
Charles Poliquin/Ed Coan/Matt Wenning: Achieving Excellence in Power Lifts
PICP* Level2 Strength & Conditioning Coach
PICP* Level1 Strength & Conditioning Coach
McGill Level3 From Back Pain to Ultimate Performance
Biosignature Modulation Practitioner Level2
Poliquin: Programme Design
Diploma in Advanced Personal Training with Premier Training
Gym Instructor Level2 & Leve3
Sport Massage Therapist Level4
Sport Massage Therapist Level3
ART®**: Lower Extremity
ART®**: Upper Extremity
ART®**: Spine
L1 & L2 with the Reiki London Academy**
**PICP – Poliquin International Certification Programme
*ART® – Active Release Techniques
Favourite Exercise:
Deadlift
Bio:
Jana began her career in personal training in 2009, working for the Daily Mail as a personal trainer to executive employees where she was able to gain a wealth of experience with a broad range of clients. This involved designing training programmes, assessing lifestyle changes and most importantly, how to help her clients get into great shape and stay that way.
Keen to develop her career and knowledge further, Jana trained in strength and conditioning with Charles Poliquin where she learned the importance of strength training for longevity and injury prevention, not just for performance and aesthetics.
Looking to practise what she preached, Jana used her knowledge of body composition to compete in multiple fitness shows, placing in the fitness model category at the age of 35.
Jana is also a trained sport massage therapist and certified in ART® (Active Release Techniques). This technique is designed to restore free and unimpeded motion of all soft tissues, release trapped nerves and re-establish optima resilience and function of soft tissues.
As a result, it has given her a great advantage in muscle testing and treatment of specific symptoms with muscles, tendons, ligaments, fascia and nerves.
Aside from her personal training clients, Jana works with athletes from the British Athletic Team as an on-site therapist and regularly utilises her extensive knowledge of body biomechanics, injury prevention and functional nutrition. One of her clients is world sprint champion Jason Carty who Jana has helped through lung cancer and who went on to break his own record in 2018 as the gold medallist in the over-45 100m and 200m.