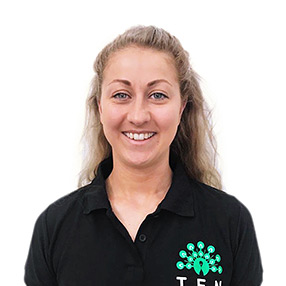 "It doesn't cost anything to be kind"
Qualifications:
Level 3 Pilates Instructor
Polestar Pilates Equipment Trained
Pilates Method Alliance – Advanced Screening Skills
Favourite exercise:
Any exercise that targets the back.
Bio:
Alexandra discovered Pilates more than 15 years ago. Since childhood, she has been actively involved in various sports and is  always keen to try anything adventurous. Alexandra credits her energy, recovery and injury-free lifestyle to Pilates. She practises Pilates not only because of how it can change your body, but also how it can change your mindset.
Alexandra spent the early days of her career running events around the world, but always felt there was something missing. She went on to leave the industry, training in Mat Pilates in 2016 with HFE and then enhancing her skillset by qualifying on the full gamut of Pilates equipment, including Cadillac, Chair, Barrel and Spine corrector, through Polestar Pilates' Comprehensive Equipment course. Alexandra isn't stopping there; she is currently undertaking her Masters in Osteopathic Medicine, developing her knowledge in order to help people live a healthier and happier life.
When Alex isn't teaching in the studio you'll find her with her walking boots on, trekking with her beloved dog.