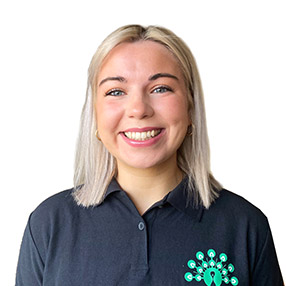 "The best investment you can ever make is in yourself"
Qualifications:
Dynamic Reformer Pilates – Ten Health and Fitness
Pre/Post-Natal – Ten Health and Fitness
Level 3 Personal Trainer Qualification
Level 2 Gym Instructor Qualification
Indoor Cycling Certification
Trinity Level 6 Dipolma in Professional Dance, Perfomers College
Favourite Exercise:
Core and postural work
Bio:
Maya has always had a passion for movement, starting ballet classes at just 3 years old. What she didn't know then was that this would spark the beginning of a lifelong movement and fitness journey.
Born and raised in Vancouver, Canada, Maya had been a 'Peak Performance' student, training seriously in dance whilst attending secondary school. She was first introduced to Pilates and the Reformer as part of her early dance training programme, and the strength and body awareness she gained from Pilates practice soon became obvious. As is common with dancers, Maya underwent rehabilitation for an injury and attributes Pilates and cross-training to her speedy recovery. Through this experience, she came to understand the importance of maintaining a strong core and using the right muscles correctly and effectively to prevent injury, pain and imbalance.
Maya moved to London in 2016 to pursue her dream of becoming a professional dancer. She obtained her Diploma in Professional Dance from Performers College and has embraced life in London, which she now calls home. Upon graduating, Maya's growing interest in health and fitness led her to continue her education and gain qualifications in Personal Training, Group Exercise and Indoor Cycling.
Maya's experience teaching dance has helped her to establish a fun, positive, approachable teaching style that is goal-oriented, and she strives to create a space to learn without fear of judgement. Maya is always excited to work with others on their fitness and health journeys.
When Maya is not helping clients achieve their fitness goals, she can be found dancing and creating choreography that inspires her.