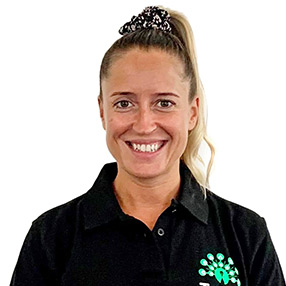 "The key to success is consistency and having the belief in yourself, that you will achieve your goals"
Qualifications:
Diploma Exercise Referral
Diploma Mat Pilates
Diploma Fitness
CPD Certificates- Kettlebells
Suspension Training
Advanced Stretching
Olympic Lifting
Favourite exercise:
Hip Thrusts and Chin Ups – these are my favourite exercises for the posterior chain, to strengthen and grow your Glutes and Back muscles.
Alissa has been involved with sports and fitness most of her life, she has always had a love for travel and adventure incorporating this into her fitness life.
She spent 10yrs living overseas in Australia and New Zealand, where she completed her Fitness training full time, travelling all over the world whilst doing so, picking up new skills and techniques for her fitness work along the way.
Having no fear and always trying something once, whether it be adrenaline fuelled activities or simply hiking in the sun.
Having circled her way through many sports, hobbies and fun past times in her life including, Figure skating, Ice hockey, Trampolining, Being a Runner (5k/10k), Aerials (Pole/Lyra Hoop/Trapeze), Snowboarding, wakeboarding, Quad biking, Sky diving, Paragliding, Bungee Jumping, Scuba Diving, Weightlifting, Strength Training, Yoga, Reformer/Equipment Pilates, Mat Pilates.
Over her years in the fitness industry, she has done extensive studying and practice to perfect her own profession and is always keen to grow and learn new things. This gives her a much better understanding of how to best look after her clients and wants to get them the best possible results and work with them towards achieving their fitness and lifestyle goals.
Alissa believes that the mind and body should both be worked to create a healthy lifestyle, she is a big advocate for mental health awareness and feels being happy and healthy is the best way to success for her clients.
She first fell in love with Pilates in Sydney when she attended a boutique reformer and equipment studio for 2 years herself. Completing 5 classes a week and having her own (20yrs exp) Master Pilates coach 1:1 every week. This gave her a much better understanding of how to perfect her craft and what to teach others to help perfect theirs.
She used Pilates and functional mobility training as her way to rehabilitate her body from the inside out, after plenty of injuries and accidents from her sports/hobbies. Prior to Pilates she was in pain most days and had plenty of muscle/joint issues and imbalances.
She healed and restored her body allowing her a new lease on life again and mastered what needs to be done to achieve this for her clients also.
You will now see her lifting heavy weights in the gym and combining mobility, Pilates and weightlifting to keep herself strong and in great shape.
Alissa incorporates a variety of methods into her classes and 1:1 training sessions, to ensure the clients have an all-round approach to fitness. She likes to keep her classes challenging and focussed on healing the body and strengthening the muscles. Her previous class attendees have commented on how her classes are hard but in a good way! When they attend consistently, they really feel the improvements, especially with their abdominals and glutes.