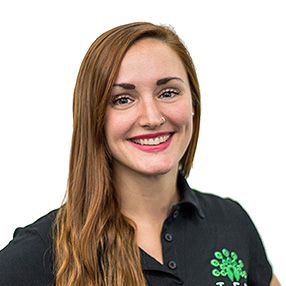 "Life isn't about waiting for the storm to pass, it's about learning to dance in the rain"
Qualifications:
Health coach
Personal trainer
Core instructor
Barre instructor
Water aerobics instructor
Pole dance instructor
Spinning instructor
HiiT / Circuit instructor
Dynamic Reformer Pilates instructor
Classes:
Favourite exercise:
Double trouble hip stretch.
Bio:
Ammi has always had a passion for movement and activity. An early love of dance and gymnastics proved the ideal preparation for fifteen years of competitive cheerleading resulting in several national championship titles, and a place in the world championships.
After learning that she was celiac, Ammi's interest in the effect of nutrition and exercise on the body grew, inspiring her to qualify as a health coach, personal trainer, group fitness instructor, nutritional advisor and massage therapist. This was the beginning of a career in wellness that has taken her around the world, working in several different countries.
Ammi loves to try new types of training and enjoys a variation of high intensity, mobility and restorative activities but especially loves anything acrobatic – which has led to a breadth of experience teaching classes of all descriptions, from Barre and Spin to pole dancing and water aerobics.
Dynamic Reformer Pilates is the latest addition to her skillset, because of its postural alignment benefits – not to mention how quickly participants see results.
She has a genuine interest in helping others overcome obstacles and find joy in movement and exercise but beyond the love of physical exercise she also has a passion for learning about psychology and how mental wellbeing is linked to and affects the physical. This inspired her to train and qualify as a life coach with a focus on mental training.
When she's not teaching classes Ammi manages Ten's Notting hill Studio. When she's not teaching classes or managing Ten's Notting Hill Studio, she'll be exercising and trying all the latest types or fitness and wellness around London. She also loves reading, watching movies and travelling to new places.