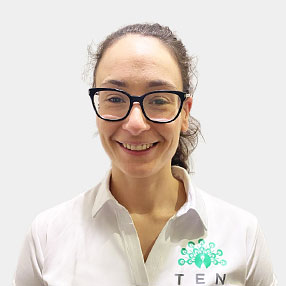 Qualifications:
FHT accredited & insured therapist
Sports massage
Pregnancy massage
Therapeutic massage
Deep tissue massage
Cupping therapy / Myofascial decompression
Dry needling (available from January 2022)
Favourite things to treat:
Anastasia's favourite areas to treat are neck and the hips.
Anastasia is an advanced Therapeutic and Deep tissue specialist, passionate about functional movement and helping her clients to maintain personal levels of physical well-being, fitness and a pain-free lifestyle.
Anastasia's life-long passion for fitness, anatomy and wellness has shaped her career as well as her hobbies – from working as a figurative sculptor to practising restorative yoga, cycling, and outdoor climbing. Following her curiosity for biomechanics, functional movement and nutrition, she found massage therapy and hasn't look back since, practising in the fitness sector, clinical settings and private.
Having practiced massage therapy for over 4 years, she has a breadth of experience in treating people who have both sedentary and active lifestyles. Providing treatments for shoulder tension relief, back pain, muscle tension, headaches, lower back stiffness, post workout massage with facilitated stretches, musculoskeletal imbalance and tension relief, as well as pregnancy massage.
Anastasia specialises in Therapeutic and Deep Tissue massage with a background in Sports Massage and Holistic therapies, providing skilled, intuitive, professional and individually tailored treatments for physical and mental stress relief.