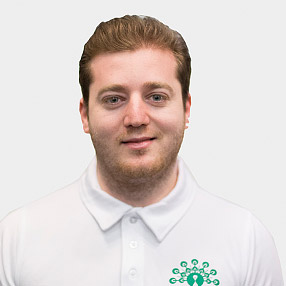 Qualifications:
Favourite things to treat:
Upper back, neck and shoulders.
Bio:
Having graduated from Coventry University with a Degree in Sports Therapy, Antonio went on to volunteer for The World Transplant Games in Malaga as part of the British medical team, running clinics to support athletes throughout the competition.
He then worked for The Rugby Lions RFC and Rugby Boroughs FC to continue his work as a sports therapist and (not entirely un-coincidentally) to support his favourite rugby and football teams.
Following this, he left the Midlands to face a new challenge and work in a clinical environment in Kent, where he supported a chiropractor in treating back conditions.
Having worked with a broad range of clients over the years – both within in sports and also the general public – Antonio understands the importance of getting under the skin (no pun intended) of his clients problems, digging into the history of the issue to have a better understanding, and then tailoring a treatment that suits them individually.
He is able to call upon a range of treatments and techniques, such as Sports Massage, Deep tissue Massage, Soft Tissue release, Muscle Energy Techniques (METs), Trigger Point Therapy and Joint Mobilisations.