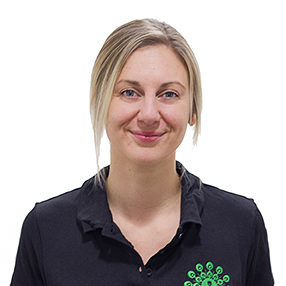 "Exercise not only changes your body, it changes your mind, your attitude and your mood"
Qualifications:
Ten Academy – Dynamic Reformer Pilates
Stott Mat Pilates
BSc Massage – Physiotherapist (IFMK Montpellier, France)

Nuad Boran Thai
Chi Nei Tsang (abdominal massage)

Reflexology plantar
Classes:
Favourite Exercise:
Reverse 4PT Hover, plank, wheelbarrow and pike sequence.
Bio:
Aurelie's education and experiences as a Physio and Massage Therapist have created a passionate advocate for the benefits of exercise in preventing injury and helping her clients move better. And with a background as gymnast and climber, she understands how improving our balance and functional control are the key for better results.
Keen to integrate a more preventive approach into her practice, Aurelie decided to study Stott Matt Pilates. Falling in love with the Pilates technique and impressed by the quick results, she quickly realised that this was just the beginning of a long journey into the Pilates method.
Aurelie discovered Dynamic reformer Pilates whilst working at Ten. Realising the benefits to her own body, Aurelie decided to join the Ten Academy to allow her to enable her clients to improve their postural alignment, reduce injury risk and achieve more effective functional movement.
She believes Pilates offers great benefits to anyone, regardless of age or ability, as it improves stability and mobility, flexibility and strength, all essential to enable us to move better in our daily lives.
She brings a depth of knowledge of knowledge of anatomy and pathology to her classes, along with a personal and hands-on approach, with ample adjustments to ensure you are doing the movement properly…and feeling the burn!
In her free time, Aurelie enjoys practising Pilates, yoga, rock climbing and she can't wait for winter to jump on her snowboard.
Aurelie is also a Massage Therapist at Ten.