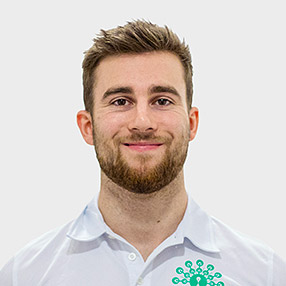 Qualifications:
BSc Sports Rehabilitation (BASRat)
Deep Tissue Massage
Myofascial Massage
Taping
Joint Mobilisation
Assisted Stretching
Favourite things to treat:
Upper/lower back, lower limb.
Bio:
Ben's passion for sport, health and fitness started at a young age and was born out of his love for playing Rugby.
Having played at County level for several years – and sustained his fair share of injuries as a result – Ben is no stranger to the physical and mental challenge this puts on the body. And it was this experience that inspired him to study Sports Rehabilitation at St Mary's University.
During this time, Ben completed a placement with the Rugby Championship Ealing Trailfinders, giving him the opportunity to work with professional athletes, providing definitive care and 1-1 exercise sessions. Since completing his degree, Ben has maintained his passion for Rugby and continues to work with Rugby players – he's now based with the Harlequin Amateurs side.
With his sporting experience and physiological knowledge, Ben prides himself on being able to not only support his clients with reaching their goals, but also to surpass their expectations. And whether that goal is managing pain, discomfort or injury, improving sports performance, excelling recovery periods or simply relaxing after a long day, he has a breadth of treatments and techniques at his fingertips (often quite literally), including manual therapy, assisted stretching and exercise prescription.
When he's not in the treatment room, Ben can be found maintaining his passion for staying fit and active, mostly through Resistance Training and Running.