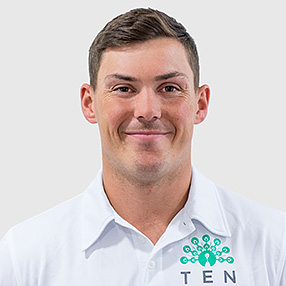 Qualifications:
BTEC Level 5 Sports and Remedial Massage Therapy
Bachelors of Physical Education majoring in Sports Science & Exercise Prescription
Brookbush Institute of Human Movement Specialist
Member of the Institute of Sport and Remedial Massage (ISRM)
Medical Acupuncture
Dry Needling
Favourite things to treat:
Neck, Shoulders, Feet and Knees.
Bio:
Ben trained at the London School of Sports Massage and is a graduate of the University of Otago, where he majored in Sports Science and Exercise Prescription.
Ben's love for physical activity has led to first hand experience of a broad range of injuries – from those faced by professional athletes to the kind of everyday strains, sprains and niggles we're all prone to. This has fuelled his passion for a greater understanding of how to work through and overcome these problems.
A key part of Ben's training has taught him to identify not just the immediate affected muscle groups but the underlying causes as well.
He has used those skills to benefit a wide variety of clients, from Professional MMA fighters and amateur rugby players to hospitality staff, manual and office workers.
Each treatment will vary as Ben uses a variety of techniques such as neuromuscular techniques (trigger point therapy), soft tissue release, to muscle energy techniques and of course deep tissue massage. Each treatment is tailored specifically to fit the client's needs and wants while also working towards the bigger picture of eliminating the root of the problem.
Looking forward Ben plans continue his studies through Ten Health & Fitness and further his knowledge. When he's not in the treatment room, you may also see him in a class or helping out at reception – watch this space.