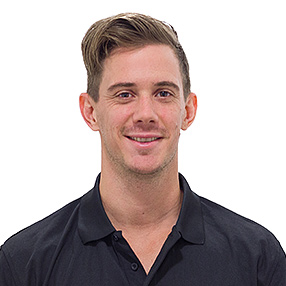 "Don't look for a role model, be somebody else's"
Qualifications:
TenAcademy
Bachelor of Sport and Exercise – major in exercise prescription and training.
Fitness Level 4

Group Fitness Instruction Level 3

Sport & Event Management Level 3
Classes:
Favourite Exercise:
Reverse Lunges, Bosu Ball Press-ups and Oblique Cable Crosses.
Bio:
Born in South Africa, raised in New Zealand and recently arrived in London, Brads' career choice was decided at the age of 12.
Playing multiple competitive sports and pushing the limits of how many games of sport one parent should be asked to sit through in a week, Brad has always known he wanted to be in the health and fitness industry.
After finishing school he continued to further his education in the fitness industry, completing 3 certificates in fitness, before completing BSc in Sport & Exercise in 2010.
Brad's career in health and fitness took off when he experienced how exercise could impact the lives of everyday people struggling with a health condition – an insight that changed his aim in life, from giving someone a thick chest and arms to helping people create a more holistic and long lasting approach to health in their own lives.
Brad has extensive experience as an Exercise Specialist and Personal Trainer, and has run boot camps in New Zealand. More recently – and for him much more importantly – he also spent 5 years as an Exercise Physiologist in a leading health and wellness centre. Here he worked not only with able bodied clients, but also became increasingly passionate about working with clients with a vast range of disabilities and injuries – and who couldn't get help anywhere else.
Brad's beliefs and approach to fitness and health is all about sustainable and lasting benefits – that means no fad diets and no 6-pack in 7 days.
In the weekends you'll find Brad training, studying, watching rugby, snowboarding or doing backflips anywhere he can.