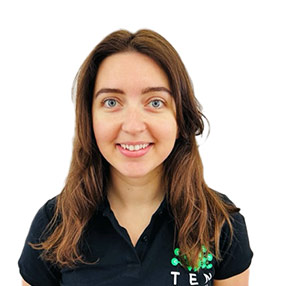 "Exercise is Medicine"
Qualifications:
MSc in Exercise Physiology
BSc in Sports Science
Personal Training
Fitness Instructing
Cardiac First Response
Optimum Nutrition for Health and Performance
Favourite Exercise:
Banded Glute Walks.
Chloe was born and raised in Ireland. Sport has always been a huge part of her life, and she played a variety of sports growing up but focussed mostly on Gaelic Football.
She has always been truly fascinated by the application and influence of science in sports. This fascination evolved even further when she started studying for her undergraduate degree in sports science and was able to delve deeper into various aspects of sports science such as biomechanics, exercise physiology, nutrition, strength and conditioning, and psychology.
It was really when Chloe was on placement in a cardio-rehabilitation centre, working with clinical populations, that she truly started to see the bigger picture. She witnessed first-hand how beneficial and effective exercise was for treating various chronic conditions, and that was when the saying 'exercise is medicine' really came to life for her. She found herself able to apply her sports science knowledge to general and clinical populations – greatly contributing to the overall health and wellbeing of her clients.
Determined to develop her physiology knowledge and skills further, Chloe studied for a masters in exercise physiology in Loughborough University. She also completed large amounts of physiological testing on sporting and non-sporting individuals, realising its value as part of a training programme to assist with exercise prescription and help monitor overall training progress.
Chloe has worked with a wide variety of individuals – from children right up to the elderly! She has gained experience across a number of different environments including corporate settings, sports setups, clinics and gyms. With each person that she works with her aim is to highlight key areas and subtle changes that can help improve their overall health, wellbeing and performance – with the addition of some fun along the way!
In her spare time, you'll find Chloe exploring my surroundings, whether by walking, running or hiking.