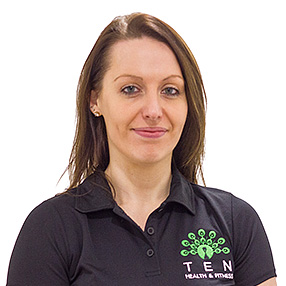 "The body achieves what the mind believes"
Bio:
Up until a couple of years ago, Claire was a fitness 'weekend warrior'. She spent her working day deskbound, hitting the gym in any free time that she could find, loving the feeling of escaping the daily stresses and focusing her mind on getting stronger and fitter.
Wanting a change of direction and lifestyle, Claire made the decision to turn her passion into her career, and hasn't looked back since. She is a Level 3 qualified personal trainer, working with clients in a one on one environment, and also teaching classes to small groups of people, with a focus on fun and fitness.
Having also recently undertaken a qualification in Sports Massage, Claire focuses heavily on assessing and correcting poor posture caused by the pressures of modern life, while also increasing strength and fitness levels. Mobility plays a big part in her sessions – and also in her own training regime – as it is such an important factor in restoring flexibility and correct movement patterns.
Claire is an advocate of introducing weight training into everyone's routines, as much for general health benefits as for specific strength and weight loss goals. It is essential for good form and technique, even with the smallest of weights, and so she teaches this over everything.
She has chosen to teach HIIT because she believes it's a great way to challenge and enjoy yourself – two reasons why it always has a place in her own training schedule.
Claire is currently preparing to compete in a fitness modelling competition, so in her spare time she can be found doing plenty of research into bodybuilding, in the gym or socialising.