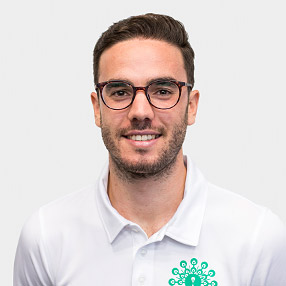 Qualifications:
BSc (Hons) Physiotherapy
MCRP
APPI Matwork
Acupuncture and Dry Needling
Football Physical Trainer Course – Malta Football Association
Favourite things to treat:
Ergonomic induced pain, injury prevention, pre and post op orthopedic cases, and athletic knee and ankle injuries.
Bio:
Daniel has always upheld a deep interest in human anatomy, and this combined with his passion for athletic success led him to pursue a career in Physiotherapy. Having played competitive football for over 20 years himself, he's also no stranger to the physical and mental challenges that go hand-in-hand with injury.
Having graduated from the University of Malta with a BSC in Physiotherapy, he went on to work in both a private clinic and with a football team. During this time, he treated a multitude of musculoskeletal and orthopaedic cases including muscle injuries involving the lower limbs and joint issues. He developed a particular interest in knee and ankle injuries, and pre/post op cases such as ACL, meniscal injuries, tendon/ligament repair and fractures.
Whilst at the private clinic, he also provided an additional service which emphasised on injury prevention and post-exercise recovery – which turned out to be very successful for the clients involved.
Daniel strives to provide the best possible service to his clients, and he is constantly committed to expanding his repertoire of treatments and techniques by furthering his experience and education.
With an APPI matwork qualification, he incorporates his Pilates knowledge into his clients' programmes, finding that it is particularly effective when treating back pain and re-teaching correct movement patterns during rehabilitation. His Dry Needling qualification means that he is able to provide immediate pain relief and aid the healing of damaged structures in the body. Having also completed the Malta Association's Football Physical Trainer course allows him to bridge the gap between clinical and field based rehabilitation, resulting in a lower re-injury rate for his rehab clients.
Daniel enjoys educating his clients on their condition and working with them to set achievable goals and build an effective treatment plan. Typically, this plan will initially focus on reducing the pain that prevents correct movement patterns. Once the range of motion is restored, he will work with the client on building strength to bring them back to a state of pre injury and/or discomfort. Finally leaving them equipped with the tools and knowledge to reduce their risk of repeat issues.
Daniel recently moved to London to further his experience once more and he is currently undertaking an MSc in Sports and Exercise Medicine at Queen Mary University. When he's not completing his studies or treating clients he enjoys exercise, music and having the opportunity to further explore London.