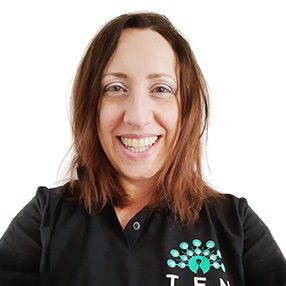 "Never stop breathing"
Qualifications:
Pilates Instructor Matwork L3 CYQ
Pilates Reformer FITT
Pilates Wanda chair FITT
Pilates ladder barrel Body Control Pilates
Prenatal Pilates Body Control Pilates
Favourite exercise:
Roll over (I like to see the world upside down)
Bio:
Daniela has been teaching and coaching clients for almost a decade. Her experience covers both one-to-one and group sessions in matwork and apparatus, and she works with clients of all ages and from all walks of life, from dancers and athletes to special populations, including pregnant women, elderly people and children.
Daniela has a strong client-centric approach in which each individual develops their own understanding of the techniques involved – and along with this, the ability to introduce these into their daily activities outside of sessions in order to improve movement and posture.
Daniela's teaching style is to constructively challenge, support and encourage clients. She loves creating an environment that is relaxing, fun and where clients feel safe and confident to learn and explore their movement further.
Daniela continues her professional development though workshops and training in Feldenkrais and Gyrotonic. In her spare time, she loves to practise skate rolls, gymnastics and dance.