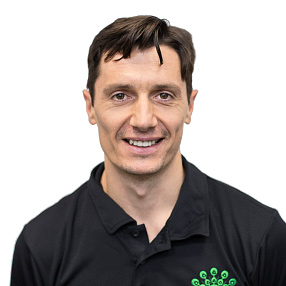 "Stay clear of protocols and one size fits all approaches. Our role as trainers is to strive only to find what works for each specific client."
Qualifications:
BSc Hons sports and exercise science
UKSCA accredited strength and conditioning coach
Premier global REPs level 3 certified personal trainer
FRC (functional range conditioning) certified
FRA (functional range assessment) certified
C.H.E.K certified exercise coach
RTS (resistance training specialist) certified
PICP (Poliquin group) level 1 and 2 certified
Bio:
Daryl has always been a lover of all sports especially football, athletics and later surfing.
It was the passion for fitness along with the desire to work with pro athletes that fuelled his decision to become a PT back in 2004.
After completing his premier diploma in personal training and sports massage Daryl spent the first 2 years as a fitness instructor, gaining experience from gym inductions and writing basic programmes.
Making the switch to full time PT in 2006 he quickly identified gaps in his knowledge and skills (and numerous courses and qualifications later, he's still driven to expand his learning at every opportunity). Discovering his passion for ongoing education, over the next few years he attended courses from the C.H.E.K institute, Poliquin group, became a UKSCA accredited strength and conditioning coach as graduating from university with a degree in sports and exercise science.
Daryl spent 4 years working full-time in pro boxing for Shane McGuigan, helping him set up his gym in Battersea. These pivotal years spawned many of the proudest memories of his career as he fulfilled his goal in a strength and conditioning role with several world champion boxers, as they trained for major fights in fights in both the UK and US.
Daryl has also worked for some of the larger fitness companies along with some of London's higher end gyms. Over recent years a growing passion for rehab, injury management and biomechanics saw his education moving towards courses such as FRC (functional range conditioning) and RTS (resistance training specialist).
Having experienced his share of hip and low back pain himself, a desire to help others to get pain free and move better sees him now pursuing this as an area of expertise. Daryl's style as a trainer and coach is to push his clients to work as effectively and also safely as possible.
For Daryl, every client is completely different and is treated as such, with a focus on sustainability at the heart of all his programmes.
His career goals now include continuing his own education, mentoring other trainers and becoming an ever more expert rehab-focused trainer.