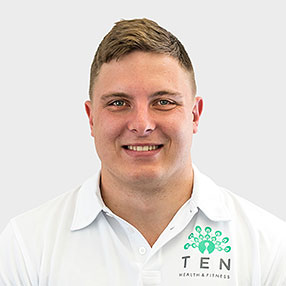 Qualifications:
L3 Sports Massage
Kinesiology Taping
L1 Rugby Coaching
Favourite things to treat:
Lower limbs, rotator cuffs and headaches.
Bio:
South African-born and qualified, Dyllan came to London to join the Ten Therapy team in 2019.
He had previously run his own practice in South Africa, and as avid sports fan, he was lucky to count many elite and professional athletes amongst his clients, including international rugby stars from New Zealand, Australia, Argentina and South Africa.
Dyllan has also treated many high profile power lifters before, during and after competitions, along with competitors in the Comrades Marathon, the world's largest and oldest ultramarathon. He has also worked with a number of youth athletes.
Fortunate enough to spend a year working side by side with a leading Physio in South Africa, Dyllan gained valuable experiences and learned a number of techniques, both of which have proved invaluable in his treatments. He is also qualified in Kinesio taping to aid post treatment healing.
As both a massage therapist and a keen rugby player himself, Dyllan has in-depth experience – both personal and professional – of pain management, identifying injuries and rehab. He is very familiar with the complexities of a range of different issues, from soft tissue injuries to chronic neck pain.
In his spare time, Dyllan loves to fish and play rugby. He enjoys good food and spending quality time with friends and family. Whenever he can, he likes to get out of the city to enjoy nature's beauty and have some quiet time to himself.