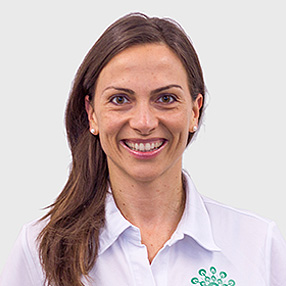 Qualifications:
Masters in Osteopathy
Post graduate course in Traditional Osteopathic Methods
Diploma in Physiotherapy
Mezieres Method Certificate
Clinical Pilates Instructor
Pilates for pregnancy
Fitness Instructor
Favourite things to treat:
Bio:
Registered with the General Osteopathic Council (GOsC)
Eleonora's training in rehabilitative care progressed from her original training as an exercise instructor and Pilates trainer (she has ten years experience as a Pilates instructor, with specialist training in Pilates for pregnancy).
She qualified as a Physiotherapist in Italy, where she gained a diploma in Physical Therapy and worked at the highly respected Rehabilitation and Physiotherapy Institute in Italy for five years.
Whilst in Italy she also qualified in the Mezieres method of Physiotherapy (a whole body approach that focuses on restoring the patient's function and pain free movement through specific postural techniques; designed to elongate the posterior myofascial chain and encourage neutral spine alignment).
Eleonora then spent a year in Australia working as a Pilates Instructor and also as a Physiotherapist for South Melbourne Women's Football Club.
In 2012 she relocated to London where she graduated from the British School of Osteopathy with a Masters in Osteopathy, and then went on to complete a postgraduate course in Traditional Osteopathic methods. The philosophy behind this classical osteopathic technique is to treat the patient as a whole and to enable the body to restore homeostasis in order to promote health and reduce pain.
Unsurprisingly, Eleonora has a holistic approach to treatment. She seeks to identify and treat the cause of the presenting problem, rather than focusing only on relieving the symptoms. She has a breadth of experience treating a wide range of conditions, from sport injuries to chronic complaints and uses mainly hands-on techniques, although treatment can involve lifestyle advice and exercise to address maintaining factors. She has a particular interest in treating the spine as a means to enhance function to the other areas of the body.
Eleonora speaks fluent English and Italian, and is fully insured.