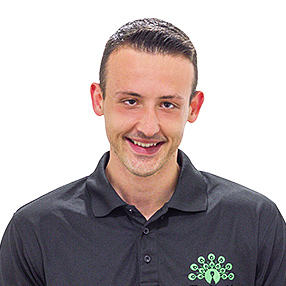 "When you feel like quitting, think about why you started"
Qualifications:
L3 Personal Trainer
L2 Fitness Instructor
L2 Award in Kettlebells
L2 Award in Suspension Training
Classes:
Favourite exercise:
Deadlift and Squat – don't ask me to choose between them!
Bio:
Emil wasn't always into fitness. Quite the opposite: he was seriously overweight, a heavy smoker living off Subway sandwiches and greasy chicken wings. One day he decided that he had enough of unhealthy living and signed up to the nearest gym. The results were – quite literally – transformational.
Emil not only managed to overcome his own weakness to make life-changing differences to his diet, health and body composition, but also quickly began to realize there is much more to fitness than just the physical aspect.
Emil left his comfortable work as a concierge in a 5-star hotels, traveled around Brazil and returned to London to join Ten to work as a Front of House Assistant to get a better understanding of clients needs and aspirations.
While working for Ten behind the desk, Emil was also working on his formal fitness qualifications, including Level 3 in Personal Training, L2 Fitness Instructor, Kettlebell Instructor and Suspension Training (TRX).
Today health and fitness is not just Emil's job, it's part of his daily life and personal success.
Passionate about helping his clients to experience what he has experienced, Emil puts a lot of emphasis on big, multi-joint movements, to make his sessions as effective and efficient as possible for anyone who is looking to get stronger, leaner and happier.
In his spare time Emil is cycling around London and trying out different fitness classes that this amazing city has to offer. From Strongman classes, through EMS (muscle contractions using electric impulses…not an experience he'll be repeating), to Yoga, – and Pilates of course.