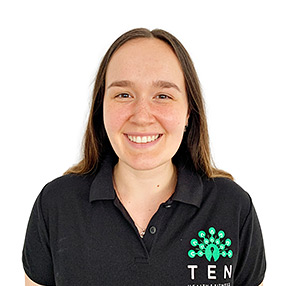 "Surround yourself with people who push you to do better, to bring out the absolute best in you"
Qualifications:
Certified Stott Pilates Instructor for Total Barre, Matwork Essential & Intermediate
Completed Stott Pilates coursework in Reformer Essential & Intermediate
Level 3 First Aid
Classes:
Favourite Exercise:
Anything to do with footwork, because working from the bottom is always the best way to build a strong foundation.
Bio:
Born in South Africa, Gabriella grew up with a passion for tennis, achieving full colours at school. She went on to coach younger children, which was her first foray into teaching and sharing her knowledge. Seeing others make progress as a result of her input was incredibly satisfying, and this remains a strong driving force in Gabriella's training focus.
Gabriella's mother ran an established Stott Pilates studio in Johannesburg, and as a student, she gravitated towards it as another outlet for her increasing interest in training. She completed the Stott Pilates courses in Matwork, Total Barre and Reformer and received her Stott Pilates Instructor Certification for Total Barre, Matwork Essential & Intermediate. Gabriella then moved to London in 2020 to continue her career in Pilates.
Being an extravert, Gabriella loves interacting with people – particularly in a class environment, which stimulates movement and energy. She thrives when she's able to help others focus their minds on their bodies, and in turn improve mobility and strengthen the all-important supporting muscle groups. A true people person, her genuine interest and care for clients ensure a fully rounded and enjoyable workout without any risk of injury.
"Working with people, exercising, improving the movement of our bodies and sharing what I know with others is what I love to do, so here I am 'living the dream'" says Gabriella.
When Gabriella is not teaching, she still enjoys her tennis and new found love of gardening.