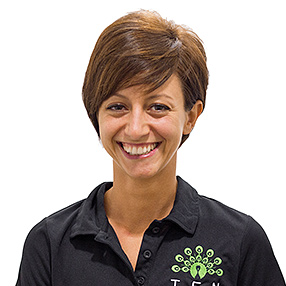 "Listen to your body"
Qualifications:
200 Hour Teacher Training
Pregnancy and Post Natal Yoga
Classes:
Favourite Exercise:
Sun Salutes, as they work on both strength and flexibility of the whole body.
Bio:
Daughter of a yogini, Yoga has been in Gandha's life since the very beginning. Both her parents travelled around India and Nepal before she was born (which is why, despite being Italian, she has not one but three Indian names).
After practicing Yoga regularly for a number of years, wanting to deepen her knowledge and understanding of the discipline, she enrolled on to Yoga teacher training. Originally, this was to help her develop her own practice and be her own teacher. Now she feels very lucky to be able to share her knowledge and experience with students during class.
A true servant of her art, Gandha spends the majority of her free time practicing yoga, reading and studying it and coming up with new flows and ways to challenge the body and quiet the mind. She sees this is an essential part of her job, as to be able to teach yoga, you must first understand its effects on your own body.
In her teaching, Gandha pays particular attention to posture and alignment. She sees yoga as a tool to get in touch with your inner teacher and learn to listen to your body, whilst quieting the mind.