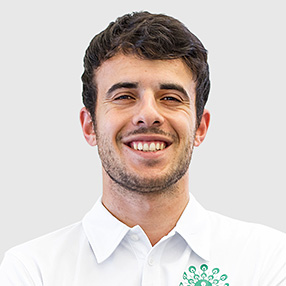 Qualifications:
HCPC
CSP
ACPC (Association of Paediatric Chartered Physiotherapist)
Bachelor of Physiotherapy (Italy)
Dry Needling and Myofascial Release
Neurorehabilitation and Neurodevelopmental specialist
Postgraduate course in Traditional Osteopathic Methods (AIOT – Italy)
Postgraduate study in Hypnosis and Psychotherapy (NCHP – UK)
Favourite things to treat:
Spinal disorders (including migraine and cervicogenic headaches)
Movement/Postural dysfunctions
Sport injuries and overuse injuries
Adolescent and child-specific conditions
Pre and post-operative rehab
Bio:
Registered with the Health and Care Professions Council, Member of the Chartered Society of Physiotherapy and of the Association of Paediatric Chartered Physiotherapist.
Giulio graduated with a Bachelor's Degree in Physiotherapy in Italy where he continued to study for his PG qualification in Osteopathy. After working in the National Health Service he moved to the private sector where he was the lead Physiotherapist of the paediatric department in two clinics.
Afterward, he was actively involved in the therapy team of several professional soccer and basketball teams in Italy's Serie A and Serie C.
Over the past two years, Giulio has also worked in various private, educational and NHS settings around the UK. In addition to the opportunity to work alongside GPs and consultants, he gained valuable experience and knowledge in neurology, paediatric and musculoskeletal medicine
He is passionate about providing a genuinely holistic approach, ensuring there are no gaps in the patient's health management. Passionate about the importance of assessing movement and posture, not just symptoms, Giulio aims to address the contributing factors to an injury and not just the presenting symptoms.
Giulio uses a combination of manual therapy, dry needling, osteopathic techniques, progressive muscle relaxation and hypnotherapy along with a focus on client education and motivation. He emphasises the connection between mind and body control to enable his patients to become active and aware participants in their own recovery.
Giulio is continuing further his education by working towards his Masters of Science in Research, Neuroscience and Neurorehabilitation at Brunel University.
He has a personal interest in Martial Arts especially Win Chun and Tai Chi. These two arts are an excellent training for our body posture and self-awareness and Giulio regularly combines his knowledge of martial arts with his clinical skills.