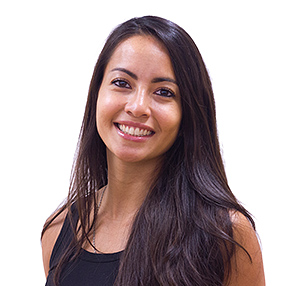 "Be the best you can be today"
Qualifications:
200 hours Yoga Teacher Training
Classes:
Favourite yoga pose:
Wild Thing (Camatkarasana). An arm balance as well as a backbend all combined into one – a dynamic pose that opens up the heart and really challenges the body.
Bio:
Born in Rome, Grace moved to London aged 19, and has lived here ever since.
Her love affair with yoga started in 2009 when she saw her practice really come to life and become part of her daily routine.
Grace originally came to the mat for the physical aspect and returned because of the difference it made to her mind.
Since then, she has explored different practices and taken classes with some truly inspiring teachers, allowing her to expand her knowledge and also to properly understand what worked best for her. Having considered teacher training for several years the right opportunity for her came along in 2015 when she trained at Fierce Grace Yoga in London with Michele Pernetta.
Grace's classes are for all – all shapes, all ages, and all backgrounds, regardless of how far you can reach your fingers down to the floor. She encourages people to listen to their bodies and be adventurous, to push their boundaries, and first and foremost to have fun with it.
Grace focuses on creating balance; between body and mind, and between flexibility and strength. Attention is drawn to alignment and breath and modifications are offered for injuries.
When she is not doing yoga related activities like practising, social networking, writing or studying, Grace likes to travel and discover new places. She's into healthy baking, trains at least a couple of days a week and loves finding new music and artists to listen to and creating playlists for her classes.