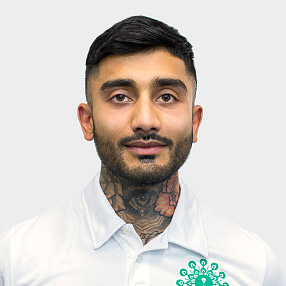 Qualifications:
Sports Therapy (BSc)
Spinal Mobilisation Techniques
Kinesiology Taping (Rocktape Lv.1)
Instrument Assisted Massage Tools (IAMTs)
Dynamic Reformer Pilates (TenAcademy)
TenHiiT
Favourite things to treat:
Lower Back Pain, Shoulder Pathology.
Bio:
Having graduated from Birmingham University with a Degree in Sports Therapy, Gurdev went on to work with the Birchfield Harriers – one of the UK's elite Athletics teams – where he supported athletes with their performance in Sprint, Hurdling, Long Jump and High Jump.
He then went on to become the lead therapist for Gracie Barra Birmingham – a prominent competitive Academy in the UK for Brazilian Jiu-Jitsu – where he developed his understanding of the crucial role that Massage plays in recovery. Having also competed himself, he found that he able to put his own experience into practice and was therefore able to better assess movement, identify injury and/or limitations and provide effective treatment.
Following this, Gurdev also worked as a Strength & Conditioning Coach and Massage Therapist at the MSC Performance Gym in Birmingham looking after an array of clients, including Weightlifters, Powerlifters, American Football players and professional Hockey players.
Having worked with such a broad range of sportspeople over the years, Gurdev understands the importance of getting his clients back on their feet as quickly as possible and he is able to call upon a range of treatments and techniques, such as Soft & Deep Tissue Massage, Muscle Energy Techniques (METs), Trigger Point Therapy, Blood Flow Restrictive methods, and Spinal & Peripheral Joint Mobilisations to offer his clients optimal recovery. He's also qualified in Kinesiology Taping and Instrument Assisted Massage tools.
Outside the treatment room, Gurdev can also be found delivering Dynamic Reformer Pilates Classes and Personal Training sessions at Ten. Keen to expand on his existing skills and experience, he's also currently studying for Master's Degree in Strength & Conditioning.