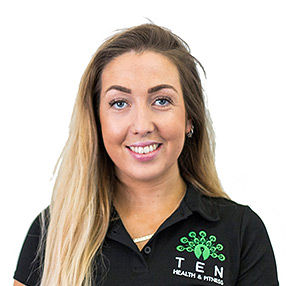 "The more you learn about the body, the easier it is to understand"
Qualifications:
REPS Level 3 Personal Trainer
Dynamic Reformer Pilates
Pre / Post Natal
Classes:
Favourite Exercise:
Reverse Jackrabbit – it always gets the core burning!
Bio:
Hollie's passion is helping people.
Having been diagnosed with Type 1 Diabetes aged 17, she has first hand experience of dealing with a life changing condition and understands the impact it can have on the individual.
Since her diagnosis, she wanted to learn more about her condition. This culminated in her turning her passion into a career, leaving the legal profession, and qualifying as a Level 3 Personal Trainer. She has since written an e-book on Type 1 Diabetes, Health and Fitness and is currently studying to be a nutritionist.
Hollie's personal history with diabetes and her expert knowledge of the condition makes her a highly valued part of TenClinical's specialist diabetes team. Driven to successfully help others both physically and mentally, she is passionate about the ability of expert, specific exercise prescription to manage blood sugar levels.
Hollie believes movement plays a huge role in health and understands the positive impact the correct training and nutrition has on the body and the endocrine system. She is living proof that that regular exercise can make it easier to control diabetes (especially type II), and as someone living with a Clinical condition herself she brings a particular insight, empathy and passion to her sessions.