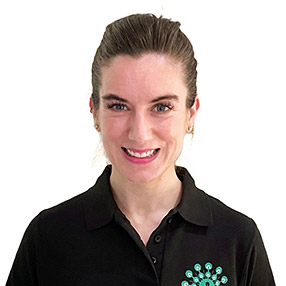 "Balanced is best"
Qualifications:
Ten Education Dynamic Reformer Pilates
YMCA Level 3 Diploma in Teaching Mat Pilates
YMCA Level 3 Pilates for Pre and Post Natal Clients
Favourite exercise:
Plank – who knew just trying to hold still could be so hard?! Plus, the options to layer onto the basic plank are plentiful.
The human body is always something that has fascinated Isla, who had dreamt of being a doctor since childhood. After some years in the legal profession, and starting a family, Isla decided to embark on a new journey and retrain as a Pilates teacher.
Having always lived a highly active lifestyle, Isla discovered the power of Pilates herself after the birth of her first child. She believes Pilates is fundamental for optimal wellbeing. From those with a sedentary lifestyle to the elite athlete, Isla wants to educate her clients so that anyone who attends her class can learn how to develop a 'Pilates brain' and understand how best to hold and move their body in order to help cope with life's demands.
Isla is an advocate of taking a balanced approach and training smart. Two key truths underpin her approach. The first is that quality and consistency of movement will lead to greater physical and mental health. And the second is that if you don't enjoy it, you won't keep doing it. As a result, Isla aspires to keep her classes effective and fun. You should leave the studio feeling challenged, accomplished and smiling!
Outside the Pilates studio, Isla indulges her love of fashion, as well as training for and dabbling in the odd triathlon race.