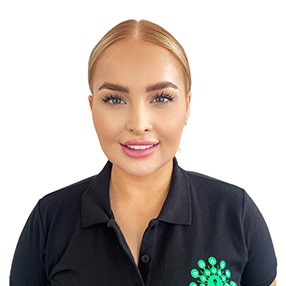 "Movement heals, and so does laughter - have fun with it"
Qualifications:
REPS Level 3 Pilates Instructor
Mat Pilates qualified with Body Control Pilates
TenAcademy
First Aid Certificate
Diploma in Dance & Musical Theatre
Dynamic Reformer Pilates
Pre & Postnatal on Reformer
Favourite Exercise:
Any exercise that works the core and rotates the spine. I love slow oblique curl-ups.
Jasmine believes Pilates goes beyond movement and brings freedom and happiness into people's lives. She initially found her passion for fitness whilst training to become a dancer. Having spent 8 hours a day dancing, Pilates allowed her to recover and heal from the daily strain. The more she tapped into the Pilates method, the more she fell in love with the exercise. So much so that she chose to change her career and train to become a Pilates instructor – and she hasn't looked back since.
During her early career as a Pilates trainer, she created bespoke one-to-one matwork lessons for her clients, in and around London. Jasmine's style of teaching is full of creativity, fun, and flow, challenging her clients to grow. She thrives on seeing the amazing transition in her clients, even after just a few sessions.
Jasmine also began teaching group classes in London for to accommodate clients of varied capabilities. Her vision is to help motivate, challenge, and guide people to reach their goals. She loves the creative outlet of developing classes and creating movement. Jasmine has always been a firm believer that connecting body and mind opens new doors, and heals both internally and externally.
Jasmine is a calm and kind person, always looking to bring the best out of everyone in her class. She stands by the statement that making time for fitness opens up a whole host of benefits across multiple aspects of your life. Her classes are best described as fun, dynamic, challenging and also healing.
When Jasmine isn't in the studio, you can usually find her researching new fitness trends, cooking, baking, attending the gym, hanging out with friends and family, and just living life to the fullest.