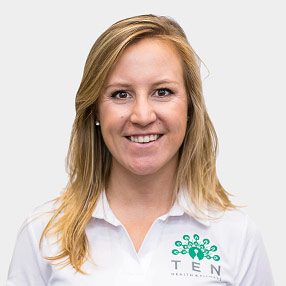 Qualifications:
Bachelor of Physiotherapy (University of Pretoria)
HCPC
MCSP
HPCSA: Health Professions Council of South Africa
OMT1: Orthopaedic Manual Therapy (South Africa)
SPT1: Sports Physiotherapy (South Africa)
Dry Needling
Favourite things to treat:
Sports injury and rehabilitation
Post-surgical conditions
Adolescent/Childhood related injuries.
Bio:
Registered with the Health and Care Professions Council and Chartered Society of Physiotherapists.
Jemma graduated from the University of Pretoria, South Africa, in 2013. After completing a Physiotherapy Community Service year in a rural clinic in South Africa, she moved to Scotland where she spent 2 years in the private musculoskeletal sector in Edinburgh.
She returned to South Africa in 2017 to continue her career in musculoskeletal outpatients and orthopaedic hospital inpatients, working alongside some of the top Orthopaedic surgeons in Johannesburg. During this time Jemma also completed two post-graduate qualifications in Orthopaedic Manual Therapy and Sport Physiotherapy. She has recently moved to London to join the Ten Physio team to continue developing her skills in musculoskeletal and sports physiotherapy.
Jemma has global experience working and travelling with Sports Clubs, National Sports Teams and Elite Athletes in Football, Rugby, Touch Rugby, Cricket and Transplant Sports. She has a passion for health and physical activity and loves people of all walks of life and fitness levels.
She embraces a holistic approach, combining a variety of manual therapy techniques as well as exercise-based rehabilitation, tailoring each treatment programme to achieve the best results and return her clients to their best, pain-free, self as soon as reasonably and safely possible.
Jemma is very athletic and has participated in most sports from childhood. She currently competes in endurance sports such as road cycling, mountain biking and triathlons. Her active involvement in dynamic sporting environment perfectly equips her to understand the physical demands related to exercise as well as the significance that pain and injury has on quality of life.
Jemma spends her free time getting in touch with her artsy side by sketching and painting and thoroughly enjoys reading auto-biographies on sporting celebrities and adventurers.