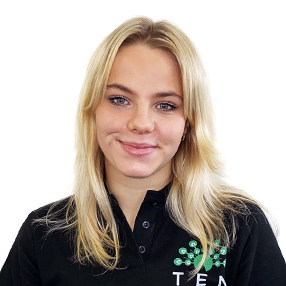 "Strive for Progress, not perfection"
Qualifications:
Professional Musical Theatre graduate (Distinction) from Midlands Academy of Dance and Drama
BTEC Level 3 Performing Arts Graduate (Distinction) from Italia Conti Arts Centre
Favourite Exercise:
Bulgarian Split Squat – powerful exercise that targets all leg muscles and tests your balance by engaging your core!
You could say Jess' Pilates experience goes way back – from the age of 9, Jess would watch and take part in her mum's online Pilates classes, copying all of the moves.
For as long as Jess can remember, she's always had a passion for dance and the performing arts. She started dancing at 11 and her love for it continued to grow throughout her teens, even seeing her make the move to Surrey at 16 to train at Italia Conti arts centre.
After completing her 2 years and graduating with distinction, Jess moved to Midlands Academy of Dance and Drama and undertook a diploma in Musical Theatre. She honed her talents in singing, acting and all forms of dance, and loved every minute. Throughout Jess' dancing career she has nurtured and developed a love for fitness. Now settled in London, she enjoys going to the gym regularly and dancing at least 3 times a week.
Alongside her studies, Jess has also gained a wealth of experience teaching dance at multiple locations, discovering a passion for developing her students' skills and helping them reach their full potential. In class, she is a bubbly teacher who strives to create a positive environment, and she is a firm believer in this being one of the most important factors for promoting growth. Jess is always excited to work with new people and loves nothing more than helping others to reach their goals!